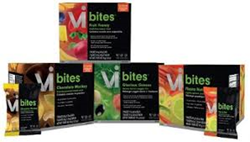 GJ Reynolds shared, "Vi will become the #1 Healthy 'Fast Food' provider in the world... and Vi will also become the number one transformation company in the world as well."
Houston, TX (PRWEB) September 25, 2014
Snacking isn't the problem... It's what we're snacking on. Nearly 100% of people snack every day. The average person also consumes nearly 600 calories a day in snacks alone. Unhealthy snacking is the #1 noted cause of healthy challenge goal failures.
GJ Reynolds shared, "During a typical year, there are over 356 billion consumptions of snack-oriented convenience foods. Research shows that 'snacking' now accounts for just over half of all eating occasions. One in five people eat one snack per day; 41% have two, 24% have three, 13% have four, and 4% have five or more ... so, the answer seems to be EVERYONE is snacking at least once a day. Vi Bites are designed to provide a nutritious snack option to help anyone to live the Vi-Life and achieve their health Challenge goal.
Snacking on healthy foods, such as nuts and dried fruit, can help you lose weight, when eaten in moderation and as part of a weight-loss meal plan with increased physical activity. Eating whole, plant-based foods that are nutrient-dense, including nuts and seeds, and avoiding processed foods and sweetened beverages that are high in calories, can also help you fulfill your nutritional needs when on a weight-loss meal plan.
Anyone whose Challenge goal is to lose weight or maintain your weight loss, the new Vi Bites Fruit Frenzy and Glorious Greens flavor options would be great snacks to complete their Challenge meal plan. Fruit Frenzy, an all-natural mix of freeze-dried fruits, will satisfy their sweet tooth at just 50 calories. And, Glorious Greens, a lightly-spiced, freeze-dried veggie mix, will satisfy their savory, crunchy craving at just 70 calories. Both options are freeze-dried to lock in the freshness, lock in nutrition, and go anywhere one chooses to go! There is no cholesterol, artificial sweeteners, preservatives, vegetarian friendly and ackaged for convenience.
A common question GJ Reynolds has been asked, "Which are the best Vi Bites varieties to support my active or fitness Challenge goals?" Reynolds said, "If one's Challenge goal is to build muscle or support an active or fitness endeavor, the Chocolate Monkey and Fiesta Nut flavor options would be great to complete your Challenge meal plan. Chocolate Monkey, an all-natural mix of banana chips, chocolate chips, nuts and seeds, is sure to satisfy. While Fiesta Nut, a lightly-spiced mix of nuts, seeds and soy nuts is packed with protein and flavor."
According to Alita Reynolds, "Anybody who likes to snack should eat Vi Bites. They are a great way to eat healthy throughout the day and is great for anyone on the go. I travel extensively and they have proven to be a great snack I am able to pack in my carry on and snack at any time. With Vi Bites, you can 'snack smart' and they are convenient, affordable, tastes great, and gets results. Everything you've always wanted in a snack--and more"
"Because of all the healthy choices Vi is now providing, Reynolds boldly shared, "Vi will become the #1 Healthy 'Fast Food' provider in the world ...and Vi will also become the number one transformation company in the world as well."
To learn more please go to SimplyG.com
###
Simply G Media Network was founded in 2012. Simply G Media Network has a syndication of 100 plus stations and countries. Syndication is on both terrestrial and internet based stations. Simply G Media Network also has its very own call sign, WSG-DB (Simply G Digital Broadcast) and has a rapidly growing global listening audience. To learn more, visit http://www.simplyg.com.
ViSalus was founded in 2005 with headquarters in Los Angeles, CA and Troy, MI. ViSalus is the company behind the PROJECT 10™ Challenge, personal health and lifestyle transformation platform. ViSalus champions personal victories and entrepreneurship through a social marketing model, premium products, and supportive global community. For more information about ViSalus, please visit vi.com and follow the Vi Community.
GJ Reynolds is a former US Army Sergeant and an original founding member of ViSalus and is now a 5-Star Ambassador, Vi Millionaire with ViSalus, and CEO of Simply G Media. He has written a book titled The Playful and Powerful Warrior Within You! and holds the distinction of completing the Dale Brown Challenge by working out for over 1000 days straight. Reynolds is active on the Project 10 Challenge and is having continued success. He is also ranked in the top ten percent of people in social media.