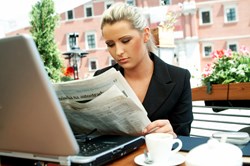 Tucson, AZ (PRWEB) December 04, 2013
BizAnytime is currently seeking $20 million in Series A Funding to support its plans to expand. The company, which provides a cloud-based collaboration system for remote workers that as an estimated market of approximately 70 million, plans to use the money to fund its upcoming subscriber expansion. BizAnytime will be acquiring roughly 100,000 new users in the months to come and there is no end in sight to the rapid growth of both this company and the industry it aims to lead.
This type of funding, known as Series A, is designed to help existing businesses in particular market sectors to grow and expand. BizAnytime's expansion plans are being developed in conjunction with executive recruitment plans, searching for top talent through Korn/Ferry International, in addition to other initiatives aimed at positioning the firm as a true market leader. Remote Collaboration is currently the fastest growing segment of the cloud computing market, which is itself garnering a great deal of attention for what it enables businesspeople to do. With a cloud-based collaboration system like BizAnytime, remote workers are able to work together seamlessly from home, a coffee shop, an airport, a hotel, or anywhere else they might be.
The goal of this funding initiative is to become a market leader with remote WiFi users, which the company is well on its way to achieving. BizAnytime has already succeeded in marketing its brand and providing its remote workforce with innovative solutions, allowing the firm to reach a large audience of current and potential users. With the Series A funding, BizAnytime will be able to continue its unparalleled growth, attain its desired status as the leading choice for remote workforce facilitation software and service, and increase its market valuation to $100 million.
For more information, visit http://www.bizanytime.com.
About BizAnytime:
The BizAnytime cloud-based collaboration system provides advanced tools for project management and cooperation among colleagues, clients and vendors. The company offers a range of services that include the following:

Shared Workspaces
Project and Task Management Tools
Ongoing Discussion Feeds
Chat Programs
File Storage and Sharing Functions
Document and Project Collaboration
Video Conferencing Tools
Prices start at $10 per month for this advanced suite of cloud computing services.