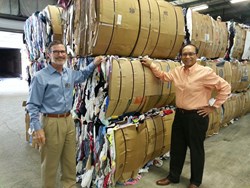 'The exceptional nature of this tragic situation requires all possible efforts to get help to those affected, and we will play our full part in this global effort to assist.'- Bob Rosinksy, Goodwill Manasota President & CEO
Bradenton/Sarasota, Fla. (PRWEB) December 04, 2013
Goodwill Manasota will be delivering more than 40,000 pounds of clothing Thursday, Dec. 5 to victims of Typhoon Haiyan in the Philippines.
The destruction of the Philippines hit home to many people here in the U.S., including employees at Goodwill Manasota and one very dedicated volunteer – Fred Lopez. When the typhoon hit, Lopez, a Filipino citizen and the executive director of ShelterBox Philippines, found himself working through the night trying to coordinate resources for his family and others when he received a phone call from Bob Rosinsky, president & CEO of Goodwill Manasota, offering assistance. "I was extremely touched by his kindness and generosity," said Lopez.
"The level of destruction being reported is absolutely staggering," said Rosinsky. "We have several Filipino employees whose families were affected by this disaster, and we are doing everything we can to support them."
Lopez says there is an urgent need for clothing and he is thankful to Goodwill for donating 40,000 pounds of clothing, valued at more than $14,000.
"I am so grateful that in this time of immense loss, Goodwill has come to help," said Lopez.
The Philippine Red Cross is assisting in collecting clothing donations and the Rotary Club in the Philippines is handling the sorting and distribution of the apparel.
"We understand the urgent need to help the 10 million people affected by this disaster," said Rosinsky. "The exceptional nature of this tragic situation requires all possible efforts to get help to those affected, and we will play our full part in this global effort to assist."
About Goodwill Manasota:
Goodwill Manasota is an industry-leading, 501(c)(3), not-for-profit organization that changes lives through the power of work. We accomplish our mission through a network of Good Neighbor Centers in Sarasota, Manatee, Hardee and DeSoto counties and our Mission Development Services (MDS) around North America. For more than 110 years, Goodwill has provided opportunities through such programs as Donated Goods Employment Services, Job Connection, JobsPlus, Supported JobsPlus, HomeBuyer's Club, Mission Development Services, White Glove Services, Good Neighbor Program and Ambassadors Program. Goodwill continues to assist people with disabilities and barriers to opportunity by changing lives through the power of work. Goodwill Manasota, Inc. is legally organized under the laws of the United States and the State of Florida. We are accountable to a local Board of Directors. Goodwill Manasota in essence belongs to this community, and is NOT owned by any individual or company. For more information, visit EXPERIENCEGOODWILL.ORG.