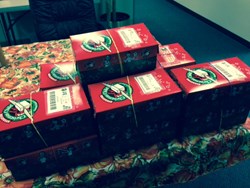 We filled shoeboxes with gifts that we hope will bring joy to boys and girls around the globe. Giving just for the sake of giving is part of the magic of the season.
Atlanta, Georgia (PRWEB) December 04, 2013
Foundation Financial Group employees participated in Operation Christmas Child as part of the corporation's Giving is Living campaign. Employees from FFG's Atlanta Regional Sales Center, located at 100 Galleria Parkway #1400, donated gifts that will be mailed to children around the world.
"Foundation Financial believes in the importance of giving, and this campaign gives us an opportunity to give to in-need children everywhere. I'm proud to share this beautiful tradition with my FFG family," said FFG Event Coordinator Melissa Palmer, who has supported Operation Christmas Child for several years.
Through FFG's Giving is Living campaign, employees and teams filled shoeboxes with gifts for children. The shoeboxes were festively decorated and organized by age and gender. Foundation Financial employees sent items like small toys, school supplies, hygiene products, clothing, and other accessories.
The boxes were taken to one of the many Operation Christmas Child drop-off locations in Atlanta. Participants who wished to track their shoebox as it travels across the globe could do so by donating $7 and printing out a unique barcode for tracking. The donation helped to cover the shipping cost.
"We filled shoeboxes with gifts that we hope will bring joy to boys and girls around the globe," continued Palmer. "Giving just for the sake of giving is part of the magic of the season."
Operation Christmas Child is sponsored by Samaritan's Purse, a nonprofit organization that supports children in remote areas of the world. Over the past two decades, over 100 million boys and girls have experienced joy from simple gift boxes prepared by strangers and delivered through Operation Christmas Child. Samaritan's Purse, a nondenominational evangelical Christian organization, has been providing spiritual and physical aid to people in need since 1970.
About Foundation Financial Group
Foundation Financial Group is a multibillion dollar financial services corporation. FFG offers its customers Best in Class service through its Insurance, Retirement, and Mortgage Services. Named one of the fastest growing financial companies in the country by Inc. Magazine for the third year running, FFG has continued to grow its nationwide presence with over 100,000 new customers per year in 39 states. In addition to the value that Foundation Financial provides every customer, it is also dedicated to its communities and the people who live in them. Through a vast array of philanthropic endeavors, the company not only provides significant monetary donations but also fosters a workforce environment that encourages all team members to personally make a difference. Foundation Financial is committed to its strong focus on customer service and community investment as it continues to grow and compete with the largest financial institutions in the world.
Foundation Financial Group reviews all public relations inquiries. For additional information, interview and image requests, contact the Foundation Financial Group Public Relations Team.