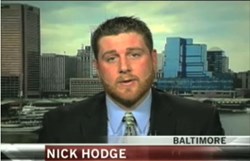 The Fed has been printing us into oblivion, flooding the market with credit to keep the economy afloat.
Baltimore, MD (PRWEB) December 05, 2013
Investment Expert Nick Hodge is calling for Bitcoins to hit $10,000 USD. Hodge, the investment director of the Outsider Club investment newsletter says, "I have no doubt that the digital currency will break $10,000 in the next two years."
"With increasing distrust in central banks and governments, I see the fledgling online currency safely in five-digit territory by 2016," says Hodge.
The currency has already surged more than 7,000% this year, climbing from $13.50 to nearly $1,000, lending credence to Hodge's prediction.
The key factor behind Bitcoin's meteoric rise is the currency's limited availability. Bitcoins can't be printed. They must be mined through a complicated cryptographic process, and their total supply has been capped at 21 million – making them more stable than most fiat currencies.
That's why Hodge, an eight-year veteran of the financial publishing industry, believes Bitcoin's value will continue to soar.
"The Fed has been printing us into oblivion, flooding the market with credit to keep the economy afloat," he said. "As a result, the dollar simply cannot be trusted as a credible store of value."
The central bank has pledged to keep overnight interest rates near zero until unemployment falls to at least 6.5%. However, the rate currently stands at 7.3%, making any monetary tightening unlikely in the short term.
Meanwhile, other so-called "global" currencies have proven equally unreliable. The euro was undermined last year when the European Central Bank had to rescue Greece from a potential default. The ECB was called into action for second time earlier this year, when the Greek debt crisis spread to Cyprus. There, bank deposits were frozen, and in many cases, seized.
As encrypted online coinage, Bitcoins do not carry that risk. The currency isn't controlled by a central bank and cannot be seized in the event of a currency crisis or financial collapse. For that reason, it's often likened to gold and other precious metals.
"When you consider the risks involved with the global financial system, it's no surprise people are flocking to Bitcoins," says Hodge. "Over the past few years, we've seen banks fail, nations default, and consumers' deposits seized. Bitcoins are the next generation of currency. They're the currency of the digital age – the age of defaults."