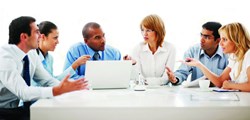 Big pharmaceutical companies are now struggling with drug discovery.
Needham, MA (PRWEB) January 08, 2014
In a recent interview with the Vice President and Chief Medical Officer at one of the world's leading international research institutes, we discussed the inability of big pharmaceutical companies to effectively discover or bring new drugs to the market, and the consequent issues this brings to the industry. We agree with the interviewee that if big pharmaceutical companies do not improve their pipeline of compounds, research and development will continue to decline.
Not too long ago, the pharmaceutical industry was in a stage of rapid innovation. But this seems to have changed as big pharmaceutical companies are now struggling with drug discovery for several reasons, as outlined below.
All large companies eventually reach a point where their history creates a foundation of bureaucracy that tends to prevent innovation. In established organizations, the avoidance of risk is more important than the need to develop something new -- since there is already a history of success and financial stability.
Even though start-ups or smaller organizations have fewer resources to allocate to research and development, these businesses traditionally have more successful innovation than large companies. This is often because scientists are more passionate and hungry to succeed in smaller organizations. Success in smaller organizations is measured by the ability to 'stay alive', which often goes beyond the ability to follow the rules of a large bureaucracy. The future of the small company depends on the success of the individual and vice versa. Therefore, there is a greater incentive for employees to work harder and longer hours, and to innovate along the way.
This realization, combined with a decrease in overall funding, has led to financial cuts in research and development programs in the industry. In the past few years, big pharmaceutical companies have made severe budgetary cuts. According to an article by the Royal Society of Chemistry, published in 2010, Pfizer, GSK and AstraZeneca were all looking to decrease their research and development budgets by at least $1 billion in the next few years. AstraZeneca alone had planned to cut roughly 1,800 research and development positions, leaving many talented drug development scientist without a job. Unfortunately, there are not many places for these people to go.
Pharmaceutical expertise does not translate well to other industries. And, within the industry, generic firms do not need these scientists, and small pharmaceutical companies do not have the resources to employ more scientists. A few of these scientists will go on to start their own companies, but even these will most likely stall when additional funding is needed. Some scientists will go back to school for a medical or business degree, while others may leave the industry completely.
In our discussion, the Vice President and Chief Medical Officer discussed the fact that, generally speaking, big pharmaceutical companies do not have very good drug pipelines, with many of their prominent moneymakers coming off patent. During the interview, this person suggested that once this happens, "it will become virtually impossible to get something through the first proof of concept, to a study in man." Although there are plenty of people innovative enough to drive research and development, the discovery process is bottlenecked by a lack of financing, and the scientists capable of innovation are not in the position to make new discoveries due to bureaucracies or other constraints.
The industry is trying many solutions to identify the "light at the end of the tunnel." For example, with advancements in genomics and sequencing, and the addition of sophisticated bioinformatics, everyone is hoping to turn this field full of opportunities into commercial success.
By bringing together leading professionals in the life sciences, Cambridge Healthtech Associates™ (CHA™) believes that online communities, such as the Drug Safety Executive Council™ (DSEC™) community, will provide a platform for collaboration and discussion of ideas. Our goal is to bring conversation and solutions to prominent issues in the industry, like the one discussed here.
We welcome your feedback and comments – join us in this important discussion.