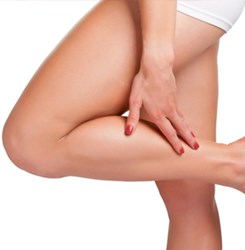 The experts at Comprehensive Vein Treatment Center advise sufferers of painful and swollen legs and ankles to take action to alleviate their symptoms before a physician treats them.
Hamilton Square, NJ (PRWEB) December 04, 2013
Comprehensive Vein Treatment Center is announcing the publication of a new article that outlines several ways patients suffering from swollen legs and ankles can reduce their symptoms themselves before getting vein disease treatment. The New Jersey based Center says that inflammation and pain in the legs can be caused by venous conditions that require prompt medical attention. The Center hopes the information it disseminates in this new article will give patients the information they need to get relief.
According to Dr. Imtiaz Ahmad, a board-certified vascular surgeon and head of the Center, there are two primary causes of leg pain and swelling pertaining to venous disease. "Almost 6 million people in the United States experience the discomfort of swollen legs caused by either venous reflux or deep vein thrombosis, two potentially deadly conditions if left untreated." The Center provides state-of-the-art venous reflux exams as well as other noninvasive diagnostics.
The Center hopes that by providing this information, the public will be better able to practice self-care to treat their vein disease symptoms. Interested readers can find more information on the topic of vein care as well as further information on vein disease on the Center's website: http://www.cvtc.net
Varicose Vein Treatment Options
Vein disease affects about half of all Americans over the age of 50. Varicose veins are a symptom of vein disease. They result from malfunction of their one-way valves which normally prevent blood returning to the heart from backing up into the legs. When blood backs up, pressure in the veins builds up and the veins bulge.
Men and women afflicted with varicose veins cannot help but be annoyed by their appearance. Too often, varicose veins lead to more serious problems such as leg pain, cramping and swelling. In the hands of highly skilled vein doctors, procedures such as sclerotherapy, radiofrequency ablation, endovenous laser treatment and microphlebectomy can safely and effectively eliminate varicose veins.
About Comprehensive Vein Treatment Center
Comprehensive Vein Treatment Center provides the Hamilton Square, NJ area with a personal approach to vein care. The team of close-knit professionals that staffs this vein center understands the value of personal attention when it comes to treatment. Dr. Imtiaz Ahmad, a fellow of the American College of Surgeons and of the Royal College of Surgeons, heads the center. Dr. Ahmad is certified by the American Board of Phlebology and uses the most technologically advanced methods available to treat all forms of venous disease. Patients can benefit from both noninvasive and minimally invasive treatments that are safe and effective. Dr. Ahmad has completed more than 2500 venous closure procedures since 2004. This expertise, combined with the Center's commitment to providing a personally tailored treatment program for each patient, allow every visitor to enjoy the best in vein care.
Tel. 1-888-VEIN-DOC