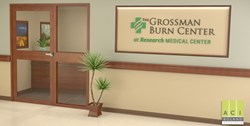 Los Angele, CA (PRWEB) December 04, 2013
The Grossman Burn Center ("GBC") at Research Medical Center in Kansas City, MO held its official opening ceremony today, and will begin accepting patients immediately. The center, which is GBC's first facility in the Midwest, expands the company's existing network of facilities in California and Arizona, and is its second collaboration with the Hospital Corporation of America (HCA), the nation's leading provider of health care services.
The eight bed facility offers a full range of acute and reconstructive surgical care, as well as an outpatient clinic. It is under the direction of GBC Medical Director, Dr. Peter H. Grossman, MD, FACS, and managed on a daily basis by Dr. Meg Garcia.
Dr. Peter H. Grossman commented, "The new Grossman Burn Center at Research Medical Center adds an important new, complementary resource to the healthcare infrastructure in the greater Kansas City region. With such a large territory, the addition of a second dedicated burn center not only creates additional burn care capacity, but it affords patients and referring physicians new options and choices in determining their burn care regimen. It is an extremely positive development for the community and for the region."
In addition to serving the greater Kansas City metropolitan area, the new burn unit also is expected to draw patients from the eight additional HCA Midwest Health System hospitals located within the surrounding 150 mile catchment area.
Research Medical Center is a dual campus, 490 bed facility licensed as a tertiary care center and a Level 1 trauma center. For more information about Research Medical Center, please visit: http://www.researchmedicalcenter.com.
About Grossman Burn Centers:
Founded in 1969 by Dr. A. Richard Grossman and now under the direction of Dr. Peter H. Grossman, M.D., FACS, the Grossman Burn Center is renowned for its expertise in providing acute and reconstructive burn care, rehabilitation and post-treatment emotional and psychological support. It has received global recognition for its treatment of some of the most difficult and high-profile burn cases in the world. The Grossman Burn Center is headquartered in Los Angeles, CA, with facilities Bakersfield, CA, Phoenix, AZ, and Kansas City, MO. For more information: http://www.grossmanburncenter.com.