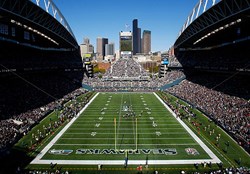 Denver, Colorado (PRWEB) December 05, 2013
Monday's night's NFL football game at CenturyLink Field in Seattle was loud. It was so loud, it echoed Seattle's current dominance over the league and triggered ticket sales for the Seahawks as well as several other NFL teams.
In September, Seattle's famous 12th man set a Guinness World Record for crowd noise at 136.6 decibels. That ear-splitting mark was eclipsed Monday night when the fans hit 137.6 decibels. By the way, anything over 85 decibels can cause hearing damage. (Source: http://www.king5.com/sports/Seahawks-fans-noise-seismometers-234182601.html)
According to a University of Washington earth sciences professor, fans made so much noise at CenturyLink Field that it was registered on a nearby seismometer with about the same energy as a magnitude 1 or 2 earthquake.
"Sports tickets are very popular this time of year. NBA Basketball and NHL tickets are selling well, in addition to NFL tickets," said Marta Ault at online ticket marketplace BuyAnySeat.com.
"That's why we're proud to offer fans the most comprehensive and continuously updated selection of sports tickets online, with a worry-free guarantee to protect their purchase," added Ault.
"To access the total line-up of NFL Football tickets now available, customers can go to BuyAnySeat.com and click on NFL Football – then select their team and their tickets."
The Saints were prepared for Seattle to bring the noise. Coach Sean Payton had his players fitted for ear plugs in the week leading up to the game and his coaching staff used posters on the sidelines to relay plays when the stadium got too loud.
In this week's bleacherreport.com power rankings, the Seattle Seahawks at 11-1 are ranked a sound Number One. The next teams in order of rank are the New Orleans Saints at 9-3, New England Patriots at 9-3, Denver Broncos at 10-2, Carolina Panthers at 9-3, San Francisco 49ers at 8-4, Kansas City Chiefs at 9-3, Indianapolis Colts at 8-4, Cincinnati Bengals at 8-4 and Philadelphia Eagles at 7-5.
According to NFL pundits, the Seattle Seahawks are the best team in football right now, especially when they play at home. Plus, home-field advantage is huge for the Seahawks' playoff hopes, as they're currently the top seed with a comfortable lead.
Barring a complete meltdown in the final four weeks, the road to the Super Bowl will go through Seattle. And what with all that noise, it's a place no one wants to visit in January.
To shop for discount NFL Football tickets, visit BuyAnySeat.com.
About BuyAnySeat.com: An online ticket marketplace, BuyAnySeat.com connects sports, theater and other live entertainment fans to an extensive network of ticket sellers worldwide. The site's simplified listings and navigational tools enable shoppers to easily locate, compare and purchase inexpensive, discounted or lower-priced tickets to virtually all advertised sports and entertainment events around the globe.
The ticket marketplace, which is PCI-compliant and Norton Secured, also provides customers with a complete Worry-Free Guarantee on all ticket purchases. Based in Denver, Colorado, BuyAnySeat.com is a subsidiary of Denver Media Holdings. For more information, please visit http://buyanyseat.com.