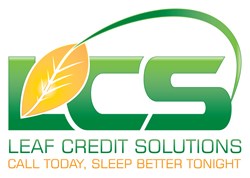 We also offer a triple warranty to every client.
Mount Laurel, NJ (PRWEB) December 04, 2013
Representatives with Leaf Credit Solutions, a national credit restoration company, announced today that starting January 1, 2014, the company will offer a 30-day trial on its services.
"We're extremely excited about this offer and we're sure that those in need of our services will be too," said Aazim Sharp, CEO of Leaf Credit Solutions.
Leaf Credit Solutions, according to Sharp, is an expert in credit systems and federal laws that give everyone the right to inspect their credit reports, dispute and correct errors, and remove inaccurate information.
Sharp went on to explain that the reason the company has decided to provide a 30-day trial for its services is due to the fact that the need for credit repair is at an all-time high.
More than 79 percent of credit reports have some type of error on them and the demand for people wanting to repair their credit is growing by the day.
"With the 30-day free trial we will dispute up to five negative items on a client's credit report on one bureau," Sharp pointed out, before adding, "The client can choose which bureau they prefer us to dispute with and which five items that they would like us to dispute."
The company CEO noted that this will give people a chance to experience the service and see what Leaf Credit Solutions can offer.
"If they cancel before 30 days they pay absolutely nothing," Sharp said. "They can also upgrade their service from the 30-day trial to become a client and we will offer them full service which includes unlimited disputes with all three credit bureaus and updating any incorrect personal information on their credit report."
Leaf Credit Solutions has an A rating with the Better Business Bureau and a five-star customer rating.
"We also offer a triple warranty to every client," Sharp said.
For more information, please visit: http://www.leafcreditsolutions.com/credit-repair-companies/ and http://www.leafcreditsolutions.com/fix-bad-credit-score-reports/.
About Leaf Credit Solutions
We believe that people slip into bad credit situations for a variety of different reasons and that everyone deserves a second chance.
Leaf Credit Solutions is proud to say that we have helped thousands of people move from apparently hopeless situations to a brighter future with a healthy Credit Score. Credit Repair helps people in many ways, from saving the cost of excessive interest charges to alleviating the stress that financial worries inevitably cause and even helping to keep families together.
Contact Details:
Leaf Credit Solutions
309 Fellowship Road, Suite 200
Mount Laurel, New Jersey 08054
Tel: 1-800-818-6358
Fax: 866-630-6340
Source: Leaf Credit Solutions
###