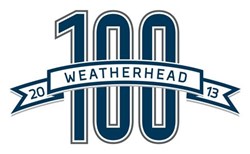 We couldn't do it without having remarkable customers who really appreciate what we do.
Akron, OH (PRWEB) December 04, 2013
The Weatherhead School of Management at Case Western Reserve University honored MobilityWorks last evening as one of its Centurion Award winners. The Centurion is part of the annual Weatherhead 100 Awards, which recognizes Northern Ohio companies for their growth over the last four years. MobilityWorks is the largest retailer of wheelchair accessible vans in the United States and the largest upfitter of commercial vans for businesses that transport people in wheelchairs.
The Weatherhead 100 awards were established to celebrate Northeast Ohio's spirit of entrepreneurship and to reward companies that serve as a shining example to all the region's businesses. The select list of honorees incorporates a method for rewarding sales growth in companies of all sizes, including the 100, Upstarts and Centurions. This year, the 26th annual Weatherhead 100 awards ceremony will recognize the region's fastest-growing companies based on revenue from 2008 to 2012.
"We are very proud to be recognized by The Weatherhead School of Management and to be among all those other growing companies in the Northern Ohio region," said Bill Koeblitz, President/CEO of MobilityWorks. "We couldn't do it without having remarkable clients who really appreciate what we do and then share their experience with other people."
To qualify as a Weatherhead Centurion, MobilityWorks had to reach 100 percent or more sales growth from 2008 through 2012 (or equal to the 100th company's growth percentage) and net sales of $100 million or more in 2012. The company had been a seven-time Weatherhead 100 award winner in many previous years dating back to 2005. The company was also recently recognized by Inc. Magazine in its annual Inc. 500|5000 list, an exclusive ranking of the nation's fastest-growing private companies. MobilityWorks has been on the prestigious list eight times in Inc. Magazine and is now an Honor Roll member.
About MobilityWorks
MobilityWorks (aka WMK, Inc) is an Akron-based Inc 500 company with more than 350 full-time employees throughout the country. Founded in 1997 with one location, MobilityWorks now has 30 showrooms in 12 states. They are listed on the Inc 500|5000 list of Inc Magazine's fastest growing privately held companies. The Commercial Division, also headquartered in Akron Ohio, is the largest converter of full-size wheelchair vans in the country. In addition to selling new and pre-owned accessible vans, scooter lifts and hand controls for adaptive driving, MobilityWorks has accessible vans for rent, mechanical repair services, and financing programs at all its locations. For additional information about MobilityWorks, go to http://www.mobilityworks.com.
CONTACT:
Guy A. Hanford
Director of Marketing
810 Moe Drive
Akron, OH 44310
Ph. 330-633-1118