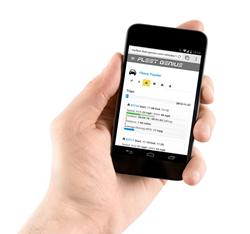 We developed the new Fleet Genius PRO Plus subscription program to make it less expensive for small and medium enterprise to start using Fleet Genius.
Carbondale. PA (PRWEB) December 04, 2013
Prova Systems has announced a 50% reduction in the price of its wireless VHM OBD-2 vehicle monitor/driver analyzer from $269 to $129. The new pricing is available to customers immediately through Prova's new Fleet Genius Pro Plus subscription plan. The new Pro Plus program lowers the start-up cost for new fleets into the Fleet Genius program.
The new Pro Plus program also introduces a new $12 per month per vehicle subscription for Fleet Genius PRO software. Along with the hardware pricing reductions the new subscription model offers several additional new benefits to Fleet Genius subscribers. These new benefits include:
Pro Plus program highlights:
New Feature Protection Plan: the program offers customers a 36-month new feature protection plan which makes all new software features available to Pro Plus subscribers at no extra cost.
Advance hardware replacement: VHMs and Access Point base stations sold through the new program are now protected with an advance hardware replacement program for the life of the warranty period.
Extended warranty program: the program extends the hardware warranty for VHMs and Access Point base stations to 36 months.
Unlimited telephone support: Pro Plus also offers unlimited regular business hours telephone support at no extra charge.
"We developed this program in response to customer demand for a more affordable startup cost for our OBD-2 fleet management system," explained John Collins, Prova Systems President. "Our customers were looking for a less expensive way to get started. The PRO Plus program meets that requirement."
The new program and pricing is available to immediately and is available to all USA customers. The company will announce availability for the program for international customers in early 2014.
ABOUT PROVA SYSTEMS: Prova Systems designs and manufactures wireless vehicle diagnostics systems for use in fleet management, drive-by emissions testing, secure access controls, usage based insurance and distracted driver programs and other critical commercial vehicle applications. Prova's line of wireless OBD-2 vehicle monitors, wireless sensors and analysis products capture real-time operational diagnostics for use in its own Fleet Genius™ SaaS application and 3rd party partner applications. The company focuses on OEM and aftermarket technologies which make consumer and commercial vehicles safer, more fuel efficient and greener. The company is based in Carbondale, PA and sells its products directly and through resellers in the USA and internationally. http://www.fleet-genius.com
###