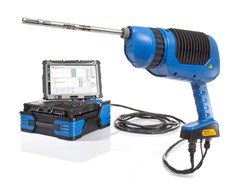 AcousticEye disrupts the multi-billion dollar NDT inspection service market with a clear value proposition that dramatically improves inspection cycle performance and, ultimately, plant asset utilization. - Gili Raanan, Partner at Sequoia Capital
Houston, TX, USA (PRWEB) December 04, 2013
AcousticEye Ltd., an innovator in non-traversing tube and pipe inspection for the global NDT (non-destructive testing) market, today announced that it has closed a $7 million round of additional funding from YS Capital, Plan B Ventures and existing investors Sequoia Capital and Israel Cleantech Ventures. The investment will be used to accelerate product development, deployment and sales.
"These funds will enable us to capitalize on the tremendous momentum we have been generating toward full-scale market adoption of our recently introduced DUET™ inspection system, which we expect will be a real game-changer for the NDT industry", said Mr. Yoav Harel, CEO of AcousticEye.
"AcousticEye disrupts the multi-billion dollar NDT inspection service market with a clear value proposition that dramatically improves inspection cycle performance and, ultimately, plant asset utilization," said Gili Raanan, Partner at Sequoia Capital.
With billions of tubes and pipes being inspected and maintained annually, AcousticEye's system is designed to increase operational efficiency by an order of magnitude compared to conventional inspection techniques. Ultra-fast and capable of inspecting any shape or material, DUET™ is a highly advanced yet easy-to-use tool that requires only a single operator versus two highly skilled operators typically needed.
Based on AcousticEye's patented dual mode pulse reflectometry technology (acoustic and ultrasonic operating in parallel), DUET™ is a breakthrough in non-traversing inspection for NDT applications in oil and gas, power generation, petrochemical and other adjacent markets including chemical, pulp and paper, food and beverage and HVAC.
For more information, please visit AcousticEye's website at: http://www.acousticeye.com.