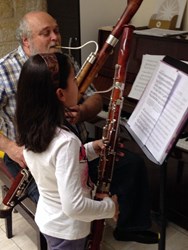 Significant in January was the honor bestowed upon the Institute by the President of Hungary, Janos Ader.
(PRWEB) December 11, 2013
The Magnificat Institute is the music school of the Custody of the Holy Land, the Franciscan Friars who have been serving Christians in the Holy Land since the 13th century. The Institute, open to Christians, Muslims and Jews is one of the most prestigious music schools in Jerusalem, according to Communications Director Fr. Riccardo Ceriani, OFM. The Institute follows the curriculum of the Italian Conservatory of Music.
Among its daily responsibilities of training students to obtain diplomas recognized by the EU, the Magnificat trains its students to sing and perform in the sanctuaries and churches of the Holy Land. These performances take place during the great liturgical celebrations of the year such as Easter (in the Basilica of the Holy Sepulcher) and Christmas (in the Basilica of the Nativity in Bethlehem).
The 2014 Yearbook just published provides highlights from the 2012-13 academic year. Through photos and brief descriptions, The Yearbook, published by the Custodia Terrae Sanctae, is a month by month review of the accomplishment of groups and individuals.
Concerts given in Switzerland and Italy, the Magnificat String Competition finished out 2012. In January 2013 many were on hand to listen to the Magnificat Piano Competition.
Also significant in January was the honor bestowed upon the Institute by the President of Hungary, Janos Ader, through his Deputy Prime Minister Dr. Zsolt Semjen. Awarded was the Knight's Cross of the Order of Merit of The Republic of Hungary.
Graduates are listed at the end of the yearbook, some who have come back to teach at the Magnificat Institute.
Always in need of support, from instruments, to strings, to resin, to currency, the Institute gives the reader a simple chart of how their donations make a difference. It is clear from the accomplishments recalled in the yearbook that donors and directors alike are making a difference in their attempt to use music as an art that unites, overcomes differences, and brings about a peace so needed in the Holy Land.
More information can be learned about the Franciscan's Magnificat Institute by visiting http://www.ffhl.org and clicking the Program/Projects tab; or by emailing us at cweldon(at)ffhl(dot)org.