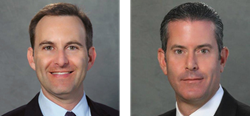 Our experienced and dedicated attorneys aggressively fight on behalf of our clients
Los Angeles, CA (PRWEB) December 05, 2013
The law firm of Tesser Ruttenberg & Grossman LLP recently launched a new website, providing a valuable online legal resource to current and potential clients throughout California.
The firm's attorneys each have over 20 years of experience fighting for their clients' rights. The new site offers helpful information to remove some of the fear and uncertainty from the legal process and includes basic information on California employment laws.
"Our experienced and dedicated attorneys aggressively fight on behalf of our clients," said attorney Ken Ruttenberg. "We designed our new site to be a useful educational resource for our clients as we personally guide them through the legal process," said attorney Brandon Tesser.
Website visitors learn how the experienced employment law attorneys at Tesser Ruttenberg & Grossman LLP can assist them with their legal issues. The firm has developed a reputation for maintaining high ethical standards while aggressively representing clients throughout California in employment law matters.
About Tesser Ruttenberg & Grossman LLP
Attorneys at law firm of Tesser Ruttenberg & Grossman LLP offer legal counsel primarily in the following areas or employment law:

Sexual harassment
Workplace discrimination
Wrongful termination
Hostile work environment
Whistleblower
Serving clients from Los Angeles and throughout California, the firm is dedicated to protecting the rights of employees. The new website explains each practice area offered by the firm in greater detail. It also shares biographical information about the individual lawyers.
For more information, please visit the firm's website or call 310.207.4022.
12100 Wilshire Boulevard, Suite 220
Los Angeles, CA 90025
310.207.4022