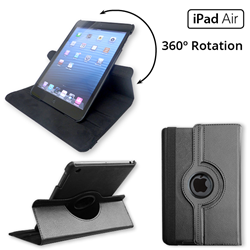 Just in time for the holidays iGear Unlimited offers leather swivel case for the iPad Air. Aside from its sleek look, it also more importantly provides iGear's usual durable protection.
Chicago, IL (PRWEB) December 09, 2013
This swivel case for the iPad Air offers folio style protection for the iPad with 360º free rotation, perfect for watching movies, or giving presentations. Rotation allows the iPad to be set up in both orientations at a comfortable angle. The folio closes for front glass protection when not in use with a soft fabric lining that protects the iPad screen.
While iGear's top priority is to make cases that deliver the utmost protection to the device, they also want the product to be fun and pleasing to the eye. With its durable leatherette padding and portfolio style, this case does not disappoint. The portfolio style imparts full-body protection all around the iPad and also happens to be a very chic look. For the finishing touch an elastic band holds the iPad securely. This new case has the standard smart cover auto wake/sleep feature as well. iPad Air Portfolio Case dimensions are: 7.5" x 9.5" x 0.75"; weight: 9.5 oz. For holiday gifting, kick this case up another notch with iGear's customization options of a white ink or full-color logo.
The iPad Air Leather Swivel case is available from iGear's website at https://www.igearunlimited.com/product/ipad-swivel-case.
About iGearUnlimited.com
iGearUnlimited.com is powered by Sunrise Digital, an Inc. 5000 company established in 1988 and employs the most advanced equipment and technology, such as G7-certified HP Indigo and UV flatbed presses, and digital die-cutting, to create best-in-class products. A privately-owned enterprise, the company is based in Chicago and sells products worldwide.