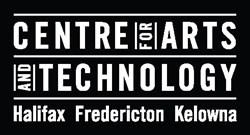 "Collaborating with CATO was a total dream. They committed to the initial vision without hesitation and then proceeded to push boundaries and expand the scope until this collaboration became truly world class." - Mark Luongo PRTY H3RO
Kelowna, BC Canada (PRWEB) December 06, 2013
A music video filmed by students and staff of Canadian Digital Art School, The Centre for Arts and Technology for Sony Music Canada recording artist PRTY H3RO has been released online (http://youtu.be/D9Y08Ab9VLs).
The video for the Canadian band's cover of the Christmas classic "I Saw Mommy Kissing Santa Claus" was filmed on November 14 in the digital art school's state-of-the-art recording studio and other locations in Kelowna. The shoot was a massive collaborative effort involving many hours of work by PRTY H3RO and Centre for Arts and Technology students and staff to plan, shoot, and edit the video. This included transforming an audio studio into a bright and cheery holiday themed scene in only matter of hours.
Mark Luongo of PRTY H3RO says, "Collaborating with CATO's staff and students was a total dream. They committed to the initial vision without hesitation and then proceeded to push boundaries and expand the scope until this collaboration became truly world class."
Says Graham Cairns, Department Head of Audio and Film Programs at Centre for Arts and Technology, "We were very excited about the opportunity for our students to take the lead on such an ambitious project for a rising Canadian band like PRTY H3RO. The students did an amazing job with the video and we can't wait to see how people respond to it online."
PRTY H3RO's debut single, Life of the PRTY, cracked the Billboard Canadian Hot 100's top 40. The trio has completed two cross-Canada tours and opened for acts like Classified, Sean Kingston, Sam Roberts, and Finger Eleven. More information about the band is available at http://prtyh3ro.com.
Centre for Arts and Technology delivers fully accredited certificate and diploma programs across a variety of arts and technology disciplines. The Kelowna campus features two contemporary recording studios and a film production studio, in addition to extensive digital video, motion graphics, digital media, digital effects, fashion design, and animation labs. More information is available at http://www.digitalartschool.com/.
Media Contact
Tyler Finley
Marketing Coordinator
Centre for Arts and Technology
250.860.2787. ext. 6152