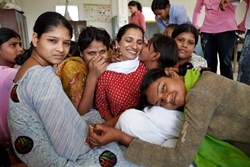 I've never received a gift for the holidays that is as wonderful as the joy of giving a child a new opportunity in life
(PRWEB) December 05, 2013
World of Children Award's 2013 Holiday Gifts spread awareness about issues facing children around the world and help people discover the gift of helping a child in need. Issues range from malnutrition, to forced prostitution, to unequal rights of children with disabilities. Each gift helps a child affected by these issues. Gifts can be made online at http://www.worldofchildren.org/holiday.
100% of every donation received during the holidays supports programs run by the 2013 World of Children Award Honorees, individuals who have been recognized because of their extraordinary dedication to serving the needs of children around the world.
"I've never received a gift for the holidays that is as wonderful as the joy of giving a child a new opportunity in life," said C. Mead Welles, recipient of the 2013 World of Children Health Award.
Mead has provided prosthetic limbs to more than 9,000 children with limb disabilities in developing countries. He will use funding from World of Children Award to provide orthopedic care for 500 children with limb disabilities.
Susie Krabacher, recipient of the 2013 Alumni Award, agrees that the best gift for the holidays would be help for the children in her program in Haiti.
"The best gift that I can get for the holidays is to help these babies who were abandoned never be abandoned again," Susie said. "There's nothing better than that."
Through December 31, every donation made to World of Children Award helps Honorees like Susie and Mead provide vital services to children in real need around the world. Donations also help the 2013 Honorees provide classroom supplies for disabled children in South Africa, foster inclusive cheerleading teams in the U.S., and rescue child trafficking victims in India.
About World of Children Award
World of Children Award is led by Co-Founders Harry Leibowitz and Kay Isaacson-Leibowitz, retired senior executives from Procter & Gamble and Victoria's Secret respectively, who first started the organization to honor individuals serving children with a Nobel Prize-like award. Since 1998, World of Children Award has granted more than $5 million in cash grants and program support to 100 Honorees who are the driving force behind programs serving children in more than 140 countries.