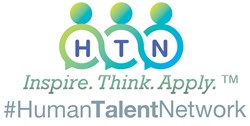 The Human Talent Network will also feature leading thinkers, researchers, and practitioners from around the globe in the areas of social science research and application to business
Washington, DC (PRWEB) December 05, 2013
The Human Talent Network, a new talent site aimed at providing engaging news, commentary and opinion has launched in Washington, DC.
The Human Talent Network (HTN) provides news, political and business commentary, opinions, and debate on issues revolving around the research and practice of the social sciences of the day including human resource management, talent management, social network analysis, social psychology, and industrial psychology among many other topics.
The site features well developed features designed to increase participation and engagement of its audience including:
-An advanced rating system for contributed articles by its members
-A broad topic base including covering issues not covered by other sites.
-A strong method of promoting contributors and their content
-A solid back-end editorial process
-An excellent integration with social media networks for dissemination of new information
Topics on the Human Talent Network are varied, including HR software industry news, advances in sociology, and social psychology, political news relating to the Affordable Healthcare Act, and coverage of the Bureau of Labor Statistics announcements.
The Human Talent Network will also feature leading thinkers, researchers, and practitioners from around the globe in the areas of social science research and application to business. A well-developed editorial process will be integrated into community contributions and debate on the important issues of today will be encouraged.
Initially the main focus will be to source first-hand accounts of advances in the social sciences from the Washington, DC area, coupled with strong coverage of the Affordable Healthcare Debate.
Contributors hoping to showcase their ideas, and willing to engage in a positively vigorous debate should visit the editorial guidelines for information on how to begin the process.
About the Human Talent Network
The Human Talent Network is portal for engaging, debating, and learning about issues of social sciences from both the practice and research perspectives. The network seeks to provide a window to the public on the salient social issues of the day, and to connect those who apply the social sciences with those who research it in hopes of improving, increasing, and enhancing collaboration in the field.