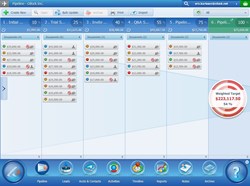 Los Angeles, CA (PRWEB) December 05, 2013
Pipelinersales Inc. has released a major update to their Pipeliner Customer Relationship Management software featuring a superior user experience for increased efficiency. Also included are numerous new features such as enhanced Google and MS Office integrations. Furthermore, many new application integrations are now possible through the REST API platform which gives the ability for Pipeliner to connect with Zapier.
Pipelinersales just launched in the US earlier this year. This release marks the 5th major release of its Pipeliner CRM software just this year. With this latest update, Pipelinersales responded once again to the needs of its customer base to ensure that this would be released by the end of the year. The company is committed to only the best user experience which is evident in its continued global expansion. This past year the company had great success winning customers worldwide. With an additional 2 million dollar investment, a strong marketing and sales team, seasoned developers, and an exceptional CRM solution, the company is well positioned for further rapid expansion in 2014.
Exclusive to Pipeliner CRM is an intuitive graphic representation of the sales pipeline. This enables the individual salesperson, as well as management, to be intimately involved with sales through a very unique user experience. Sales management, as well as other departments such as Marketing and Finance, can have a 360-degree view of sales, utilizing the results for management, marketing campaigns, sales analysis and financial forecasts. With Pipeliner, sales forecasts—along with closing rates—can be determined. Sales analytics and sales forecasting are vital not only to the survival of a sales department, but to an overall company as well. As the user experience encompasses all aspects of interaction with Pipeliner CRM, this latest update strengthens Pipeliner's core functionality.
In a practical application of this thinking, Pipelinersales Inc. is here to empower individual salespeople and return to them to entrepreneurial thinking. "Pipeliner puts essential sales tools at your disposal that help you gain better insights into your sales pipeline, and enable you to manage your sales process more effectively," Nikolaus Kimla, CEO of Pipelinersales, Inc., stated. "It makes sales teams more productive by automating and facilitating repetitive tasks so sales people can spend more time facing customers and less time administering."
Functionality Includes:

Automatic Synchronization: Pipeliner is the only CRM software available that enables automatic synchronization for both Mac and PC systems—locally or through the cloud.
New Refinements to the UI: The Pipeliner forms and fields have been completely refined to bring an even better user experience. Improvements include, Accounts & Contacts Relations as well as Management Reports.
New Pipeliner MS Office Update – Data communication has been updated between MS Office Add-In and Pipeliner that causes an increase of the add-in speed.
New Enhanced Google Integration: Enables connection to Google accounts. This integration enables synchronization of your Google Drive Files and also synchronizes contacts and tasks.
New Zapier Integration: By introducing the REST API platform, Pipeliner connects with Zapier services. Pipeliner will be able to connect to many other applications such as Evernote, Magento, MailChimp, Xero, Freshbooks, HubSpot, Asana, Quickbooks, Wufoo, Basecamp, and many more.
New Integrated Pipeliner Support & Helpdesk: All Pipeliner users will be able to use the Helpdesk within Pipeliner. This feature lets the user open a ticket in Pipeliner and track all tickets and their status.
With Pipeliner, salespeople have a powerful tool to empower them to be the entrepreneurs that they are. Pipelinersales is revolutionizing the marketplace with not only an exceptional CRM tool, but training and education to help salespeople sell smarter.
Pipeliner offers free trialware at: http://www.pipelinersales.com/easy-crm-software-download/.
About Nikolaus Kimla
Nikolaus Kimla is the founder and managing partner of Pipelinersales, Inc. and the creator of Pipeliner. Kimla is also the initiator of the independent economic platform GO AHEAD! which is based on the principles of free market economy. He is the author of Salespeople Embracing It All, The IT Revolution and Empty Coffers--New Burdens. For more information on Nikolaus Kimla: http://www.nikolauskimla.com
About Pipelinersales Inc.
More than 19 years ago, Nikolaus Kimla set the foundation for Pipeliner's future with his company uptime IT-Technologies Inc. The creation of Pipeliner CRM initiated in 2007 and has been steadily developed through intense research. Pipeliner is next generation sales CRM software designed to empower sales teams and grow profitable customer relationships. Pipeliner CRM gives new ways to look at, and to interact with an active sales pipeline. It brings the power of sales data back to salespeople with unique methods that empower salespeople and make managing complex sales easy.
For more information on Pipeliner sales CRM software please visit: http://www.pipelinersales.com or read our blog at: blog.pipelinersales.com. Follow our discussions on Facebook, LinkedIn, and Twitter.