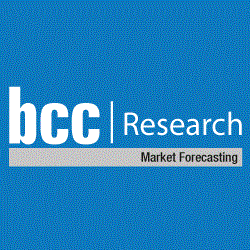 (PRWEB) December 05, 2013
Electronic instrumentation and smart sensor systems are quickly emerging as the highest growth segment of the maturing semiconductor market. Identifying successful acquisition opportunities within such a dynamic environment requires unbiased research and in-depth industry analysis. BCC Research brings technology experts and business analysts together to provide the highest quality market intelligence on the Instrumentation and Sensors market. Our market analysis and forecasting in this area is unsurpassed.
BCC Research has identified the following opportunities in the global and regional markets for Instrumentation and Sensors. Click on a report title to learn more.
Recently Published Reports:
IAS079A - Lasers for Industrial Applications: Global Markets
The impact of emerging laser technologies across a range of markets, including consumer, medical, scientific, communications, and industrial, among others, cannot be overstated. As a new generation of more energy efficient and precise fiber disk and diode lasers begins to overtake earlier carbon dioxide and neodymium YAG lasers, growth in this market will remain strong for the foreseeable future. Lasers for Industrial Applications: Global Markets provides an overview of the global market for lasers used in industrial applications. This report also analyzes global market trends, with data from 2012, estimates for 2013, and projections of compound annual growth rates (CAGRs) through 2018. (October 2013)
IAS075A - Global Markets for Satellite Technology
Telecommunication components, modules, and devices are integral to the crucial "eye in the sky" and data-relay functions that satellites perform for businesses and governments worldwide. At the ground monitoring-and-control level, telecommunication technologies help to control the satellite, transfer payload data, and allow end users to communicate with these satellites. Global Markets for Satellite Technology provides an overview of the global market for satellite technologies, which is a complex interplay of defense, regulatory, and market forces. In addition, this report analyzes global market trends, with data from 2011 and 2012, estimates for 2013, and projections of compound annual growth rates (CAGRs) through 2018. (September 2013)
IAS022D - Remote Sensing Technologies and Global Markets
Originally developed for military and intelligence-gathering applications, remote sensing technology makes it possible to examine objects and phenomena using only the target's emitted or reflected radiation. Remote Sensing Technologies and Global Markets examines the market for remote sensing products from the perspective of their 20 end-user markets, the 10 general types of remote-sensing instruments and four types of remote sensing platforms. This report also analyzes global market trends, with data from 2012, estimates for 2013 and 2014, and projections of compound annual growth rates (CAGRs) through 2019. (September 2013)
IAS037B - Ultraviolet (UV) Disinfection Equipment: Major Applications and Global Markets
The use of ultraviolet (UV) light for disinfection has been practiced for more than 30 years, but only in the last decade has the technology expanded from a niche market to hold a significant share of the disinfection equipment market. Ultraviolet (UV) Disinfection Equipment: Major Applications and Global Markets provides an overview of the global market for remote sensing technologies, including four major remote sensing platforms. This report also analyzes global market trends, with data from 2012, estimates for 2013 and 2014, and projections of compound annual growth rates (CAGRs) through 2019. (August 2013)
Upcoming Reports:
IAS051A - Global Markets and Technologies for Thin-Film Sensors
This report provides an overview of the global market for thin film sensors, with analyses of global market trends with data from 2012, estimates for 2013, and projections of CAGRs through 2018. It discusses how ongoing miniaturization in the semiconductor industry continues to affect other sectors, including the sensors and instrumentation sector; and how advances in thin film technologies are leading to the increased use of these fabrication methods for manufacturing miniaturized sensors or special coatings for bulk sensors. (January 2014)
IAS084A - Heating, Ventilation and Air Conditioning: Global Markets
This report provides an overview of the global market for heating, ventilation, and air conditioning (HVAC), the technology of indoor residential, commercial, and industrial environmental comfort. It includes an analyses of global market trends, with data from 2012, estimates for 2013, and projections of compound annual growth rates (CAGRs) through 2018. (December 2013)