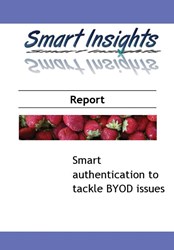 Rockville, MD (PRWEB) December 11, 2013
Smart authentication to tackle BYOD issues
Smart Insights Report "Smart authentication to tackle BYOD issues" provides a comprehensive analysis of Bring Your Own Device (BYOD) market, authentication solutions, their probable future adoption scenarios and impact on the smart authentication solutions market. BYOD experience relates to employee-owned devices being used for work. Such an employee mindset evolution may trigger changes in the whole corporate IT ecosystem, as the BYOD trend implies corporate data to travel outside a secure local network. This is why corporate IT departments are striving to adopt authentication solutions to be used on employee-owned mobile devices to secure corporate data. Smart mobile authentication devices ensure that only the right person with right information access privileges gets his hand on the corporate data. Traditional smart solutions used for logical access include smart cards, One-Time-Password (OTP) generators and USB tokens. Today, we can state as a fact that software solutions in some way cannibalize smart authentication solutions.
Nonetheless, this report establishes that BYOD software authentication solution shipments that will reach 223 million units by 2018 (CAGR of 27%) will not overthrow more secure and robust smart hardware authenticators. BYOD hardware authentication solution shipments will reach 343 million units by 2018 (CAGR of 46%).
The analysis was conducted based on primary and secondary research, the technical and business expertise of secure authentication solution manufacturers, secure corporate IT network integrators and biometrics experts that were interviewed anonymously for the purpose of this report.
To order this report:
Smart authentication to tackle BYOD issues
Contact: Shauna
800.298.5699
Customerservice(at)marketresearch(dot)com
Smart Research Insights
Smart Research Insights is a research organization specializing in niche sector market reports. We have a team of dedicated researchers with rich experience across industry segments that focus on delivering high quality analysis. We are also engaged in providing customized research solutions and company reports.
About MarketResearch.com
MarketResearch.com is the leading provider of global market intelligence products and services. With research reports from more than 720 top consulting and advisory firms, MarketResearch.com offers instant online access to the world's most extensive database of expert insights on global industries, companies, products, and trends. Moreover, MarketResearch.com's Research Specialists have in-depth knowledge of the publishers and the various types of reports in their respective industries and are ready to provide research assistance.
Follow us on Facebook http://www.facebook.com/marketresearchdotcom
Follow us on Twitter http://www.twitter.com/marketresearch_
Smart authentication to tackle BYOD issues – Table of Contents:
1 Bring Your Own Device trends (BYOD)
2 BYOD issues & user friendliness
2.1 BYOD issues & challenges
2.1.1 Security and device management
2.1.2 Lifecycle management
2.1.3 Multiple platform support
2.1.4 Privacy issues
2.1.5 Legal issues
2.1.6 Third-party applications
2.1.7 Data storage issues
2.2 BYOD security risks
2.3 User experience
3 BYOD authentication
4 BYOD authentication solutions
5 Industry players