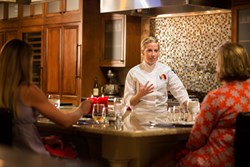 What we do is called 'tricking the palate'. - Chef Jennifer Welper
Hilton Head Island, SC (PRWEB) December 05, 2013
Hilton Head Health (H3), the country's premier health and weight loss resort, built their state-of-the-art "Healthy Kitchen" in 2011. Since then, H3 has created eight different healthy fine dining experiences. The newest addition, Holiday Traditions Chef's Table, will be offerd for the last time on December 19th.
Participation at the Holiday Traditions Chef's Table is limited to 14, and is truly a fine dining experience, unlike any other. "It is a six course meal with wine pairings, and fewer than 650 calories, at least half of what you would expect with a similar meal in other restaurants," according to Executive Chef Jennifer Welper. Diners at the Chef's Table leave with a take-home menu and recipe cards, a list of wines served, a CD of music featured during the themed event, and a commemorative photograph with the chef. "It is an evening that will be remembered, for the knowledge gained as well as the food and wine served," says Chef Welper.
The Holiday Traditions Chef's Table is a healthy version of a traditional holiday celebrations from around the world, including Lox crustini, porc de couveture, mixed salad served with tarragon balsamic vinaigrette, blood orange sorbet, Cornish hen, buche de noel and holiday eggnog.
"What we do is called 'tricking the palate' – presentation makes the food look and taste as delicious as if it had twice the number of calories, and is seasoned so that it is completely satisfying," says Chef Welper.
To learn more about the Holiday Traditions Chef's Table or other upcoming Healthy Kitchen events email getinspired(at)hhhealth(dot)com.
About Hilton Head Health:
For over 35 years, Hilton Head Health has been recognized as the premier weight loss and health retreat in the United States. Most recently, Hilton Head Health was featured on A&E's weight loss docudrama HEAVY, which aired in spring 2011. Voted as "Best for Weight Loss" for the past five consecutive years by SpaFinder and "Top 5 US Health Spas" by Lisa Drayer on the Today Show, Hilton Head Health is an exclusive resort delivering individualized experiences in the areas of Fitness, Nutrition and SELF (Stress management, Empowerment, Longevity, Fulfillment). For more information, please call 800-292-2440.