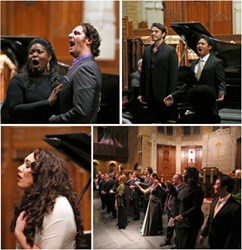 Philadelphia, PA (PRWEB) December 06, 2013
In response to the devastation caused in the Philippines by typhoon Haiyan, the First Presbyterian Church in Philadelphia will join forces with The Academy of Vocal Arts to present the second of two concerts to raise money for Red Cross International's relief efforts in the Philippines.
First Presbyterian will host the concert at the church at 21st and Walnut Streets on Saturday, December 14 at 7:30 p.m. Tickets are $25. All proceeds and any additional donations will go to Red Cross International.
For more information or to reserve tickets, please visit http://www.fpcphila.org/voices-for-relief/, or call Voices for Relief at 267-687-1496.
The inspiration for these concerts came from First Church member and AVA alumnus Jeffrey Halili, who is of Filipino heritage. "I couldn't lay claim on my heritage and on my faith if I didn't try to do what I could to help," said Halili. "And what I can do is sing and reach out to my dearest friends who can sing as well. I'm very grateful that so many of my colleagues and teachers at AVA and my church family at 21st and Walnut are able to make these concerts happen."
The concert will feature AVA alumni and resident artists Ailyn Pérez, Latonia Moore, Zach Borichevsky, William Davenport, Eric Dubin, Jeffrey Halili, Jennifer Hsiung, Ryan Kuster, Jeremy Milner, Chloé Moore, John Packard, Diego Silva, Jason Switzer, Richard Troxell, Moses Yungbae Yang, Corinne Winters, and John Viscardi with pianists José Mélendez, Richard Raub, and Tim Ribchester. (The list of artists is subject to change.)
Hospitality for the artists will be graciously provided by El Fuego Restaurant.
These artists have all volunteered their time to support this tremendous cause. They have starred in major roles at the Metropolitan Opera in New York, San Francisco Opera, English National Opera, Lyric Opera of Chicago, Royal Albert Hall, and many other renowned opera houses throughout the world. With recognition from distinguished competitions such the Metropolitan Opera National Council Auditions, George London Foundation Vocal Competition, Gerda Lissner Foundation International Vocal Competition, and the Loren L. Zachary National Vocal Competition, these artists continue to showcase their vocal firepower and achievements in opera.
To reserve tickets, please visit http://www.fpcphila.org/voices-for-relief/, or call Voices for Relief at 267-687-1496.
About The First Presbyterian Church in Philadelphia: The First Presbyterian Church in Philadelphia at 21st and Walnut Streets was founded in 1698. First Presbyterian is a home to a diverse group of Christians from the greater Philadelphia region. The church is many voices but one people who seek to glorify God through worship, prayer, and theological inquiry, to live the love of Christ through service to others, and to provide a welcoming and nurturing presence in this urban community. The church is an active member of the Presbyterian Church (U.S.A.), the Presbytery of Philadelphia and the Covenant Network.
About the Academy of Vocal Arts: Founded in 1934 and headquartered in Philadelphia, PA, the Academy of Vocal Arts (AVA) is dedicated to giving voice to opera's future. Regarded by many as the premier opera training school in the world, AVA provides four years of tuition-free training. It is dedicated exclusively to the study of voice. The student body is intentionally small and admission highly competitive. More than two hundred singers from across the globe audition each year for the fewer than eight spots available in each class. The program is limited to fewer than thirty total Resident Artists, who are immersed in a uniquely intensive and highly personalized program where they learn from world-renowned faculty. They receive training in voice, vocal repertoire, acting, stage combat, opera history, several languages, and each year are presented in three to four fully-staged opera productions accompanied by the professional AVA Opera Orchestra. They are cast in leading roles that they will in all likelihood continue to perform for the rest of their careers. No other opera training program in the world rivals AVA's success in developing individual artists whose extraordinary voices inspire millions on international stages.
The First Presbyterian Church in Philadelphia will donate all 100% from the concert to support international services of the American Red Cross. The American Red Cross name and emblem are used with its permission, which in no way constitutes an endorsement, express or implied, of any product, service, company, opinion or political position. The American Red Cross logo is a registered trademark owned by the American Red Cross. For more information, please visit http://www.redcross.org.