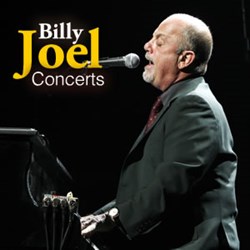 The next three shows of the new Billy Joel Madison Square Garden residency scheduled for May 9, June 21 and July 2 go on sale for the public to buy today.
New York, NY (PRWEB) December 07, 2013
The 2014 Billy Joel Tour took some major unexpected turns this week. After announcing six New York City concerts one by one, the public learned of a Madison Square Garden residency. In addition to a sixth New York city concert, five at MSG and one New Year's Eve and Barclay's Center in Brooklyn, Joel revealed he would play a show at Madison Square Garden every month as long as the fans wanted him. Yesterday he added his seventh MSG performance. The first four Billy Joel Madison Square Garden concerts sold out tickets fast. The next three shows scheduled for May 9, June 21 and July 2 go on sale for the public to buy today.
Just when the Billy Joel Madison Square Garden residency seemed to mean Joel would just play the Florida concerts in Sunrise, Tampa and Jacksonville then return to New York City and stay put, came more surprises. Next week tickets go on sale for the public to buy seats at Billy Joel concerts in Pittsburgh, Raleigh, Auburn Hills near Detroit and Los Angeles at the Hollywood Bowl. One might have thought that with the special relationship established between Billy Joel and Madison Square Garden that a west coast show might take place at the newly renovated Forum. The Eagles Forum concerts open the new venue, which happens to now be owned by Madison Square Garden. As the new announcements keep rolling in, another Los Angeles concert by Billy Joel at the Forum might represent the least shocking thing from him revealed in recent weeks.
As for the songs one may hear at these 2014 Billy Joel concerts, some may not be quite as familiar to those looking to buy Billy Joel tickets, but few may classify as brand new creations. Billy Joel spoke about playing some songs he rarely if ever performed in concerts before. Of course, fans should hear Piano Man and many Billy Joel favorites too. Based on the surprise concert on Long Island and recent Billy Joel concerts in England we prepared a probable Billy Joel 2014 concert set list indicating songs fans will likely hear as well more to vary by show.
Tickets-Cheapest.com can provide tickets for all the other major MSG events besides Billy Joel including 4 Phish New Years Eve performances, Paul Simon and Sting Tour and the Justin Timberlake tour playing 2 shows each. Sports fans may also find New York Rangers, Giants, Jets, Yankees, Mets and New York Knicks tickets too. Those in New York City who prefer theater should look at Financial Firebird's Ticket-Broadway.com site for all Broadway plays and musicals as well as The Rockettes Christmas Spectacular tickets.
For fans in the area, don't miss this opportunity to see the Piano Man live. If you can't buy seats at the frantic box office initial sale, don't worry, a large inventory of tickets for all concerts remain available at the BillyJoelTour2014.com site even after they are sold out from the venue and for less than other resale outlets including premium seats and floor tickets.
About Financial Firebird, Billy Joel Tour 2014 and Tickets Cheapest
The sites to find cheap tickets online, and its sister sites, all geared for the consumers looking for low prices, are affiliated with the Financial Firebird Corporation Travel Group, and stand among the top sites sought by travelers. Financial Firebird Corporation, established in 2000 and a proud BBB member, provides unbiased consumer information particularly involving personal unsecured debt or mortgages, software and marketing services. These sites for consumers to buy tickets online operate in the resale market and maintain no relationship with the venues or performers. The resale ticket market allows consumers access to popular events once the box office has sold out or to buy premium seats when the venue no longer offers any inventory. Within the group of these secondary market ticket services, the Financial Firebird owned ticket sites offer lower prices than competitors. Find the sites at BillyJoelTour2014.com and Tickets-Cheapest.com.