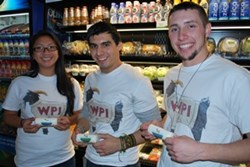 Worcester, Mass. (PRWEB) December 06, 2013
Three enterprising students at Worcester Polytechnic Institute (WPI) have launched a new business as part of their senior year course work — but this one more dairy than digital. Instead of launching a tech business, these students have decided to pay homage to WPI's revered goat mascot, Gompei, and have gone into the cheese business.
The trio—Joseph Botelho, Rodrigo Calles, and Diana Nguyen— have launched Gompei's Goat Cheese (http://www.Gompei.com) as part of their Major Qualifying Project, a year-long course that requires students to tackle professional-level challenges in their specific majors. In this case, the students all belong to WPI's School of Business, which stresses innovation and entrepreneurial skills.
"These students recognized a strong passion among WPI alumni for the school's mascot and developed a strategy to capitalize on that," says business professor Sharon Wulf, who serves as project advisor. "Their tagline, 'Made by the Smartest Goats in the World,' is a humorous tribute to the kind of people that WPI attracts. It definitely puts a smile on the face of WPI alumni."
While less than a month old, the student-run business has already sold more than $2,000 worth of Gompei's Goat Cheese – offered in plain, herb garlic, and hickory-smoked varieties – through online sales and the Campus Center cafeteria.
"At WPI, we're taught to encompass both theory and practice into our project work, which is how we built our business plan," says Nguyen, 20, of Lowell, Mass., who is majoring in management and psychological science. "Gompei has strong appeal to our alumni, and goat cheese is a very healthy product, much more nutritious than cheese from cows or sheep. So we stress these benefits in our marketing."
The university's mascot – and now the company's name – was derived from Gompei Kuwada, a 1893 graduate of WPI who, due to his initials, served as the university's first "goat keeper" after the school obtained a goat as a mascot.
The seniors formally launched Gompei's Goat Cheese on Nov. 11, WPI's Founders' Day, but the project actually started two years ago when Jim Wolken, editor of WPI's alumni magazine, introduced the idea to WPI students Nick Mondor and Tim O'Neil, who turned the concept into a student-driven project. Last year, WPI seniors Jeremy Berman and Danielle Payne conducted market testing. "Our research revealed a very competitive market with tight margins, but no dominant brand," says Payne. "We also discovered that the WPI name has strong appeal around Worcester, as several local businesses expressed interest in carrying Gompei's Goat Cheese."
Prior to the launch, the students presented their business concept to a number of campus organizations, and were successful in securing a commitment of $15,000 to help sustain the business over the next three years.
Gompei's Goat Cheese is available online or on the WPI campus, but students hope to find a distributor who will expand the product throughout Worcester County. The cheese itself is made fresh daily by Westfield Farms in Hubbardston, Mass., and then private-labeled for WPI. Westfield owner Bob Stetson says his company has done private label ventures for other companies, but never with college students. "It's a unique idea," says Stetson. "And it's been enjoyable for us to see the enthusiasm these students bring to their venture. So far, it's been a good partnership."
The current crop of students is tasked with officially launching the business, and the plan is for future students to seize the reins and keep the business growing. "Transitioning to a new group of student leaders will be a big challenge," says Botelho. "But we have moved this idea forward two years now with a different group of students. Plus, it's a tremendous learning experience, so we're optimistic other students will want to keep the business growing."
All of the students involved say they have gained valuable experience from the project. Calles, of Calexico, Calif., who is majoring in business management engineering, has enjoyed developing marketing concepts for Gompei's. Botelho, a management major from East Providence, R.I., says he learned that creating a business is different than classwork, as "the business needs to be constantly refined."
Profits from goat cheese sales will go back into the business in order to make it a sustainable operation. Future plans call for the proceeds to support student scholarships.
About Worcester Polytechnic Institute
Founded in 1865 in Worcester, Mass., WPI is one of the nation's first engineering and technology universities. Its 14 academic departments offer more than 50 undergraduate and graduate degree programs in science, engineering, technology, business, the social sciences, and the humanities and arts, leading to bachelor's, master's and doctoral degrees. WPI's talented faculty work with students on interdisciplinary research that seeks solutions to important and socially relevant problems in fields as diverse as the life sciences and bioengineering, energy, information security, materials processing, and robotics. Students also have the opportunity to make a difference to communities and organizations around the world through the university's innovative Global Perspective Program. There are more than 35 WPI project centers throughout North America and Central America, Africa, Australia, Asia, and Europe.
Contact:
Andy Baron, PR & Media Associate
Worcester Polytechnic Institute
Worcester, Massachusetts
508-831-5916, ajbaron(at)wpi(dot)edu
# # #