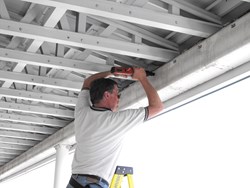 Irvine, CA (PRWEB) December 10, 2013
Each video provides an informative overview of how to install bird control products. "We are now able to reach and help a wider range of customers as many of them speak Spanish. Just like our English videos, the Spanish version is perfect for new installers who have the capability but need a little training before taking on a job," says Ian Rowsby, Director of Sales at Bird-B-Gone. For those interested in becoming an authorized installer, you can attend Bird-B-Gone University or have a Bird-B-Gone bird control engineer come on-site for training. The videos are excellent as a tool to enhance or recap your authorized installer training.
The videos not only show how to install the products, they help installers learn how to determine what situation and for what type of bird the product is best suited. "You get a lot of useful information in a short period of time by watching the installation videos," says Mr. Rowsby. "And if you need additional help or information, we're always available to help."
Bird-B-Gone is the world's largest manufacturer and distributor of bird control products, providing effective and humane solutions to a bird-free environment. Since 1992, Bird-B-Gone products have helped solve pest bird problems in commercial, industrial and residential settings across the globe. Bird-B-Gone proudly manufactures their products in the USA ensuring they meet the highest quality standards in the industry.