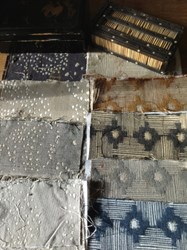 Inspiration is everywhere – from the small stitching of an antique quilt to the fine pinstripes of a well-tailored suit.
(PRWEB) December 06, 2013
For high-resolution images, visit http://pressroom.sunbrella.com.
Continuing to draw inspiration from his global travels and lifelong interests in art and fashion, Joe Ruggiero has interpreted new designs in a colorful array of Sunbrella fabrics for December Showtime in High Point. From the silhouetted florals prominent on the runways in Milan and New York to traditional Amish and American quilts, Ruggiero is once again expanding the horizons of home décor.
"Inspiration is everywhere – from the small stitching of an antique quilt to the fine pinstripes of a well-tailored suit," said Ruggiero, whose extensive portfolio of work includes product design for furniture, fabrics and artwork as well as a career in TV and print journalism. "Whether I'm in America or traveling abroad, I'm always aware of the vast array of fashion and art that permeates our culture and inspires us every day."
Four new Sunbrella fabric collections by Joe Ruggiero will be shown during Showtime and reflect the design inspiration behind his ideas – Suiting, Country Color, Exotic and Flower Garden. The collections are overflowing with elegant, livable colors and soft neutrals that enhance a room or furniture grouping rather than overwhelm it.
"The story of my Showtime fabrics is the unique combination of soft textures and livable colors," Ruggiero said. "I always design fabrics with furniture frames in mind, thinking of contours, welting and other design details. The obvious genius of Sunbrella fabrics, besides their durability, is the beautiful way they adapt for a wide variety of upholstery applications."
Suiting
Based on Ruggiero's popular fabric interpretations of menswear, the Suiting collection exudes a masculine quality that resonates with today's home décor enthusiasts. The fabrics in this collection combine subtle color with soft textures reminiscent of apparel fabrics. The classic Hopsock, available in Beige, Grey, Chestnut, Classic, Black, Leaf, Pumpkin and Taupe, grounds the collection and offers a subtle texture ideal for a base cloth.
Hand Stitch has a handmade look to its unique stripe design and is available in Seaglass, Sangria, Wren, Indigo and Black. Suiting, a tailored, subtle herringbone stripe is offered in a unique range of Grey, Slate, Wheat, Rose and Indigo. The collection is rounded out by Luke, a subtle tone-on-tone stripe offered in Salt, Dove, Beige and Sand.
Country Color
Ruggiero's second collection, Country Color, focuses on classic country styles including quilting and vintage textiles with new, colorful interpretations of traditional designs. Drawing attention in the collection is Crazy Quilt, Ruggiero's contemporary take on a very popular American-style country quilt, but with a fresh color interpretation that includes Melon, Seaglass, Lime and Sun.
The classic stripe Bedouin was inspired by the elegant muted colors seen by Ruggiero in the South of France and combines a soft hand with a color-rich stripe in the colors Buttercup, Melon, Earth, Dusk and Wren. The Amish-influenced Country was inspired by a traditional quilt design and is reinterpreted in a range of neutrals and more saturated colors, including Marine, Orange, Beige, Chestnut and today's popular Emerald.
Exotic
Ever the world traveler, Ruggiero draws design inspiration from his global excursions, paying particular attention to the colors and textures of the fabrics, fashion and art of his immediate surroundings. Such inspiration is evident in his Exotic collection, which includes subtle, stone-like colors popular in Asia combined with a distinct earthy influence.
The idea for the fabric Ando was born in Kyoto, where Ruggiero found scraps and documents of historical indigo textiles. Like the intricate pattern of a kimono, Ando features an interlocking yarn design in the colors Clay, Indigo, Slate, Grey and Sand.
Finishing the Exotic collection is Crewel, an original Ruggiero floral design similar to a tree of life. The pattern is an extension of Ruggiero's numerous dot designs and features an embroidered texture. The fabric is offered in Grey, Taupe, Latte and Grape.
Flower Garden
Taking the earthy design influence to a new level and new color range is the Flower Garden collection. The latticework design Forms is a contemporary take on a herringbone with a hint of fretwork and is available in Putty, Buttercup, Melon, Teal and Black. The design marries well with the pattern Flower Garden, a playful silhouette of leaves and flowers from Ruggiero's own garden set in Melon, Lime, Wren, Dove and Grey.
"As with each new collection, I am continually amazed by the softness, range of colors and intricate design capabilities of Glen Raven in producing my newest Sunbrella fabric collection," Ruggiero said. "Designers and consumers are responding to Sunbrella fabric as an indoor upholstery solution, making every room a living room."
About Joe Ruggiero
Joseph Ruggiero & Associates, Inc. is a multi-media home design and television production company based in Los Angeles. In addition to his Sunbrella fabrics collection, Ruggiero also designs upholstery for Miles Talbott Furniture, an MT Company Collection; casual furniture for Terra; wood furniture for Gat Creek (American made with wood from sustainable forests); decorative throws for Textillery; decorative trims for Phoenix and bedding and drapery for Casa Fiora. On the web at http://www.joeruggiero.com, Facebook, Pinterest, Instagram, YouTube, Google+, Twitter and a blog.
About Sunbrella Fabrics
Introduced in 1961, Sunbrella revolutionized the way the world thinks about how beautiful fabrics look, feel and perform. The Sunbrella brand is the leading premium fabric choice for awning, marine and furniture manufacturers, offering legendary durability, fade resistance and ease of cleaning.
Upholstery fabrics from Sunbrella are continually advancing in design sophistication and comfort, resulting in applications both outside and inside the home for coordinated décor. Sunbrella fabrics have been certified by GreenGuard, an international standard, for contributing to indoor air quality.
Sunbrella fabrics are manufactured and marketed by Glen Raven, a 133-year-old family-owned company based in North Carolina with operations worldwide. For more information on the Sunbrella brand, including fabric resources, visit http://www.sunbrella.com.