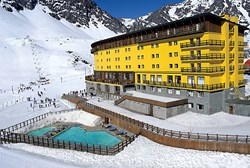 Portillo, CHILE (PRWEB) December 09, 2013
As skiers in North America are rejoicing abundant early season snowfall, the iconic Ski Portillo, Chile, celebrating its 65th anniversary in 2014, has an enticing Early Booking Offer for guests planning ahead for a a 2014 "Ski-in-Summer" vacation., Portillo is offering 2013 prices, representing savings of nearly 10 percent on all-inclusive ski week, for any guests booking their ski week by Dec. 31, 2013. For this special early booking offer, per person prices range from US$1950 - US$3950 for a Hotel Portillo valley view room, US$1300 - US$1900 at the Octagon Lodge or US$890 - $1050 at the hostel-style Inca Lodge. Portillo's 2014 season runs from June 21 – Oct. 5, 2014.
For information, visit call 1.800.829.5325 or email reservas@skiportillo.com. More information about Ski Portillo is available at http://www.SkiPortillo.com. This special offer is for North American reservations only, are subject to availability, and a 50 percent deposit is required at the time of booking. It must be purchased by Dec 31, 2013 date, and is valid only for Saturday – Saturday Ski Weeks for the 2014 season; other restrictions may apply.
Ski weeks include the following: accommodations, four meals daily in the Hotel Portillo dining room (or at the cafeteria for Inca Lodge guests), lift tickets for up to eight days skiing, scheduled transfers from Santiago International Airport, and access to all resort amenities including the oversized hot tubs overlooking the Lake of the Incas, heated outdoor pool, fitness center and daily yoga and stretching classes.
Ski Portillo offers skiers a rare taste of a world long forgotten, rich in culture, family-owned hospitality and awe-inspiring beauty. Located approximately two hours from Santiago and accessible via direct flights from numerous North American cities, Ski Portillo is the dream South American ski destination. Its incomparable setting – on the shores of the Lake of the Incas and surrounded by 19,000-foot Andean peaks – delivers an unsurpassed experience with world-class skiing and snowboarding and excellent service thanks to a one-to-one guest-to-employee ratio. Families, singles, couples, groups of friends – as well as many national ski teams- all love Portillo for its beauty, wide open slopes and ample snowfall. The resort accommodates a maximum of 450 guests a week, eliminating crowds and lift lines, and affording guests the sensation of skiing at their own, private Andean resort.
Ski Portillo's 14 lifts, including the famed Va et Vient lifts found only at Ski Portillo, access terrain catering to skiers of all abilities. Ski Portillo's ski and snowboard school features the world's most qualified instructors; nearly 100 percent instruct year-round, teaching at the finest resorts in the Northern Hemisphere when they are not in Portillo. While less-experienced guests will find wide-open and uncrowded slopes, Portillo is famed for its steeps, and the area is surrounded by easily accessed backcountry terrain. Ski Portillo's instructors also provide expert off-piste guiding for experienced skiers.
Ski Portillo also owns and operates Tierra Atacama Hotel & Spa, located in the Atacama Desert in northern Chile, and the new Tierra Patagonia Hotel & Spa, which opened in December 2011 in Chilean Patagonia.
Media Contact:
Maureen Poschman: maureen(at)promocommunications.com
+1.970.925.8480
###