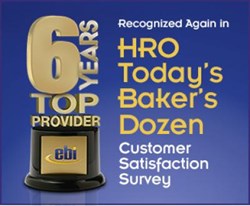 (PRWEB) December 07, 2013
Once again, Employment Background Investigations (EBI) has the honor of being recognized in HRO Today magazine's Pre-employment Screening Baker's Dozen Customer Satisfaction Survey. This is EBI's sixth time appearing on this exclusive list of the top thirteen pre-employment screening providers. By far the most prestigious survey of its kind, the annual Baker's Dozen rankings are completely based on customer survey results and quantitative rankings. For 2013, 587 survey respondents answered 30 questions, evaluating firms on their diversity of services offered, geographic reach of the company, and overall quality of service.
"It is an honor to once again be recognized by our clients as a top screening provider in our industry. Our team is committed to providing best in class service and we look forward to exceeding the needs and expectations of our clients in the future," stated Richard Kurland, President and CEO.
"Every year we're working harder to analyze every aspect of our business. In 2013 we earned our ISO 27001:2005 Certification for information security, making us the only background screening firm in the world to be both ISO 27001 and accredited through the NAPBS Background Screening Agency Accreditation Program. For 2014, our goal is to further enhance our quality management system, expand the boundaries of innovation and continue to increase customer satisfaction," stated Mr. Kurland.
About Employment Background Investigations:
Employment Background Investigations is a technology-driven innovator and leader in providing domestic and global pre-employment background checks, drug testing, occupational healthcare, and I-9 compliance solutions for employers. Founded in 1994, EBI is one of the largest background-screening firms in the country. EBI specializes in the development, implementation and management of comprehensive and customized employment screening programs for over 5,000 clients in over 200 countries and territories worldwide.