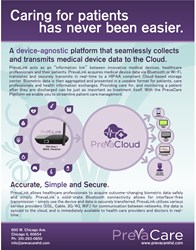 Providing care for and monitoring patients after they are discharged can be just as important as the treatment itself.
Chicago, IL (PRWEB) December 09, 2013
mHealth Summit 2013 - To meet the needs of the rapidly changing landscape of healthcare, PrevaCare ( http://www.prevacarehd.com ) has launched a home and mobile patient monitoring and communication' platform. Central to this platform is PrevaCare's proprietary PrevaLink , a device and network infrastructure agnostic hub that seamlessly collects and transmits medical device data to the PrevaCloud .
As health systems look to continually lower costs and meet new regulatory standards for hospital readmission rates, healthcare providers everywhere are looking for easier and more cost-effective ways to remotely monitor patients. PrevaLink acts as an "information link" between innovative medical devices, healthcare professionals and their patients by acquiring medical device data, translating and securely transmitting in real-time to a HIPAA-compliant Cloud-based storage center. The solid-state Bluetooth connectivity of the PrevaLink allows for interface-free transmission of data from remote medical devices. Data is then aggregated and translated into a useable format for patients, care providers and information exchanges.
PrevaLink's ground-breaking technology maintains a 24-7 connection to the patient, whether at home or away, monitoring vital signs and other pre-determined patient data. If out-of-parameter values are detected, PrevaCare automatically alerts care plan managers, providers and family members via phone, text or video calls. "Providing care for and monitoring patients after they are discharged can be just as important as the treatment itself," says Tre Zimmerman, PrevaCare's Founder and Vice Chairman. "With the PrevaLink, we enable our customers to streamline patient care management and drive results."
About PrevaCare
PrevaCare allows healthcare providers to easily and cost-effectively remotely monitor and interact with high-risk, recently-discharged or chronically ill patients in real-time. This flexible, scalable and secure cloud-based solution enables dynamic monitoring of numerous biometric indicators from a wide range of FDA-approved medical devices. PrevaCare allows patients to transmit health information to providers and family members. Additionally, PrevaCare's HIPAA-compliant, high definition video conferencing capabilities allow all involved parties to communicate on various devices (smartphones, PCs, tablets and TVs) and network infrastructures (DSL, cable, 3G/4G, WiFi).