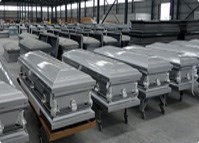 (PRWEB) December 14, 2013
Recently, MillionaireCasket.com, a well-known casket company from China, held a seminar on how to improve casket quality. 15 wood suppliers and casket distributors attended the seminar.
As the host of the seminar, MillionaireCasket.com has introduced some ways on how to make high quality caskets. The participants warmly discussed many hot topics about caskets and shared their experience with each other.
"We have analyzed some typical defect cases that are typical in casket making. This makes the distributors and our partners get a clear understanding of our products and services. As a leader in metal caskets and wood caskets, we are expected to expand its product line in the coming months. Please contact us for more details," says the sales director of MillionaireCasket.com.
The global casket market is witnessing a series of great developments across the value chain in the casket industry. MillionaireCasket.com has become a well-known brand in the European and American markets for its high quality casket products. The company claims that all its products are in line with the comprehensive ISO9001-2000 compliance quality control program.
About MillionaireCasket.com
MillionaireCasket.com is a leading casket company based in China. It focuses on the business of casket wholesale. It offers an exquisitely crafted line of all kinds of metal caskets, solid wood caskets, veneer caskets, cremation caskets, rental caskets, orthodox caskets, infant or over-sized caskets and European style coffins.
Visit http://www.millionairecasket.com/ for more details.