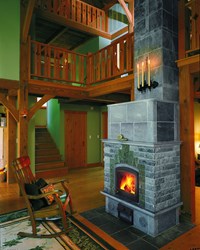 Las Vegas, NV (PRWEB) December 18, 2013
Masonry Heater Association of North America Builds and Demonstrates A Masonry Heater At The World of Concrete Expo in Las Vegas, Nevada.
The Masonry Heater Association of North America (MHA) will be constructing a Finnish Contraflow Masonry Heater at the World of Concrete and World of Masonry Expo in Las Vegas, Nevada on Jan 21st - 25th, 2014.
The project will be held in the Gold Lot, outside the convention center.
Constructing the masonry heater from the ground up gives the unfamiliar mason an opportunity to see the internal core of the heater. It also permits the MHA masons an opportunity to explain the theory of how a masonry heater works and why it is rapidly becoming a premium wood-burning system. Because of their design, they are extremely efficient, use renewable energy in the form of firewood and do not contribute to the greenhouse effect.
Masons who observe the building of the masonry heater at the World of Concrete Expo will have the opportunity to see the heater burn and generate radiant heat. There are many designs of masonry heaters but the operating principle remains the same – a fuel load is burned rapidly and the resulting heat is stored in the masonry mass. The heat then radiates evenly into the room. The observer will also see how to use the masonry heater as an oven when the MHA builders enjoy their pizza lunch.
While masonry heaters are not a household word in North America, they are becoming more and more recognized as premier wood-burning appliance. Constructing a masonry heater takes some training and this is what the MHA is all about, educating both the mason and the public about the efficiency, comfort and safety of the masonry heater. Educational classes are available to both the mason who wants to learn how to build a masonry heater and the homeowner who is considering having this wood-burning appliance in their home.
For more information about masonry heaters, the Masonry Heater Association, or educational classes, contact the MHA office @ 520-883-0191 or take a look at their website: http://www.mha-net.org
MHA invites masons who will be at the World of Concrete Expo, Las Vegas, Nevada on Jan. 21st, 2014 to stop by and see what a masonry heater is, how it is built, how it operates and why it is the premier wood-burning appliance.
The Masonry Heater Association is a non-profit organization dedicated to serving the interests of the masonry heating industry. MHA provides educational classes, certification program, and provides promotional activities demonstrating masonry heaters. Contact the MHA office for more information: execdir@mha-net.org or 520-883-0191.