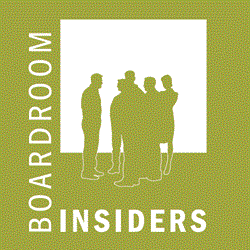 Build your team. Make decisions quickly. Move fast. Play to win - always. Invest in your troops.
(PRWEB) December 10, 2013
Is serving in the military a good training ground for corporate leadership? What do large-company CEOs who have served in the military have to say about how it prepared them to lead?
Boardroom Insiders analysts combed their database of C-level executives for CEOs with a military background, then reviewed their profiles for insight on how their military experience influenced their approach to running the country's largest public companies.
Here is a sampling of their findings:
Neil Smit, President and CEO, Comcast Cable and EVP, Comcast Corporation, is a former Navy SEAL. He says he learned his most important leadership lessons in the military: "Build your team. Make decisions quickly. Move fast. Play to win - always. Invest in your troops."
Ken Hicks learned to lead while commanding an Army artillery battery. He found his technical skills were useless unless he could inspire front-line soldiers to perform as well. This lesson translated well to his post-military career in retail, where stores are fully dependent on personnel on the floor. According to Hicks, his training in how to motivate and inspire his troops led to his becoming CEO of Foot Locker.
An Indiana native and former Battery Commander in the US Marine Corps, Don Knauss' corporate career has included stints at some of the world's most prominent consumer packaged goods companies, including PepsiCo, Coca-Cola and P&G. Knauss has been CEO at Clorox since 2006, and says he learned the basics of leadership in the military. He attributes much of his success in business to his training as a Marine, and has jokingly called his former employer P&G the "civilian equivalent of the Marine Corps."
A West Point grad, Alex Gorsky spent six years in the United States Army, where he learned the values of strong communication skills and diversity. He used those same skills when he joined Johnson & Johnson in 1989 as a sales rep. Gorsky is now CEO of Johnson & Johnson and continues to practice the mentoring he learned in the military.
Fred Smith was a platoon leader and forward air controller in the Marines. During his tours in Vietnam, Smith saw tremendous waste in the military's supply logistics and imagined a more efficient distribution system. Smith's wartime experiences crystallized into his creating FedEx.
Ralph Lauren spent two years in the U.S. Army. He says the qualities of strength and heroism that the uniforms represented impressed and inspired him. After he left the Army in 1964, he began his career in fashion by opening a tie store in New York City.
The daughter of a career Army officer, Sandy Cochran was born at Fort Benning, Ga., and grew up on US Army bases across the US and Germany before enlisting in the Army herself. She rose rapidly through the ranks as a paratrooper and Missile Maintenance Officer. She applied the same military discipline to her career in finance, earning her MBA, then steadily rising through the ranks in banking and retail firms. In August 2011, Cochran was named President and CEO of Cracker Barrel.
For more executive profiles, please visit http://www.boardroominsiders.com.
Boardroom Insiders maintains a database of thousands of C-level executive profiles, tracking personal details, biographical history and current business issues. Enterprise sales and marketing professionals use Boardroom Insiders insight to learn more about their customers and close bigger deals, faster.