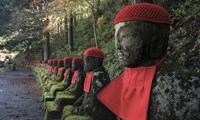 We believe our 'Heritage and History Japan' tour gives a balanced insight into the nation's culture while also giving travelers the opportunity to understand today's Japan.
Bangkok, Thailand (PRWEB) December 10, 2013
The epic 15-day, 14-night Japan tour begins in Tokyo, the country's vibrant capital. Travelers are provided with unique insider tours led by expert local Backyard Travel guides before venturing to Nikko National Park by train to visit the Toshogu Shrine compex, a UNESCO World Heritage Site.
From there, the tour moves to Takayama, famous for its outstanding sake where travelers can stay in an authentic ryokan and try a unique kaiseki meal. While in Takayama, travelers can also try the therapeutic benefits of their own private onsen – a hot spring bath.
The Hida No Sato Folk Village is just a short jaunt from Takayama and comprises 30 typical Japanese farmhouses where travelers can take workshops to discover Japanese handicrafts such as wood carving, weaving and lacquering.
The Japan tour then moves to Shirakawago, a UNESCO World Heritage Site famous for its gasshozukuri thatched roof farmhouses, then the 17th century town of Kanazawa, an ancient castle town which was once the cultural and artistic center of Japan.
Kyoto is the next stop on the cultural exploration tour, a captivating city that's home to no less than 17 UNESCO World Heritage Sites and over 200 shrines and temples. Travelers on the tour will make visits at many of the main attractions of Kyoto, as well as take in cultural experiences, such as being dressed by a professional kimono dresser and take part in a traditional tea ceremony.
From Kyoto, the tour moves to Nara, a former capital of Japan during the 8th century which is renowned for its well-preserved temples and shrines. After soaking up the old-world ambiance of Nara, the tour scales the marvelous Mt. Koya for a one-night stay at a traditional Buddhist temple while discovering more about Shingon Buddhism.
After visiting the Floating Torii Gate of Miyajima, the tour moves to Hiroshima before climaxing in Osaka, Japan's third largest city and home to the impressive Osaka Castle, one of the nation's most famous landmarks.
"We believe our 'Heritage and History Japan' tour gives a balanced insight into the nation's culture while also giving travelers the opportunity to understand today's Japan," said Backyard Travel's General Manager Maeve Nolan. "We hope this 10% promotion will allow more travelers the chance to discover Japan and learn more about the complex nation for less."