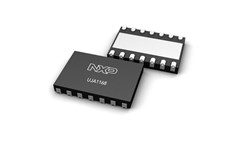 Eindhoven, Netherlands and Hamburg, Germany (PRWEB) December 09, 2013
NXP Semiconductors N.V. (NASDAQ: NXPI), the global market leader in in-vehicle networks, today announced the release of the industry's most compact family of CAN System Basis Chips (SBCs) – the UJA116x. Driving new benchmarks in miniaturization, the UJA116x family of SBCs optimizes performance in a broad range of automotive ECU applications, such as steering, cameras and dashboards, where board space is at a premium. Providing robust functionality while saving on bill of materials and system costs, the UJA116x family offers car OEMs and Tier-1 suppliers a complete range of in-vehicle networking solutions, ranging from the basic integrator UJA1161, a self-supplied transceiver, to the UJA1168, a full-featured SBC providing Partial Networking and CAN Flexible Datarate (FD) Passive support. A video introduction of NXP's latest CAN SBCs for in-vehicle networks is available here: http://youtu.be/wdU3Wn9pwI4
"New cars today have over 50 ECUs (Electronic Control Units), making it imperative for automotive OEMs to select solutions that are compact, cost-efficient and scalable," said Rob Bouwer, international product marketing manager, NXP Semiconductors. "Our third generation of CAN SBCs builds on our proven track record in connecting the car, addressing the key requirements of Tier 1 automotive suppliers for compact and energy-efficient in-vehicle networking solutions today, and in the future."
The next-generation UJA116x family of SBCs integrates common functionalities such as standby or sleep mode CAN transceiver, a 5V voltage regulator, a 5V protected sensor supply and watchdog in a compact HVSON14 package (3.5 x 5.5 mm), enabling the industry to further reduce the size of the ECU with a robust and cost-effective solution.
In response to industry requirements to drive energy efficiency, the top-of-the-range UJA1168 also supports Partial Networking – a major innovation in power efficiency defined in the industry standard ISO11898-6. In current in-vehicle networking architectures, ECUs are always active and consuming power when the vehicle is in use. CAN Partial Networking changes this model by activating only those ECUs that are functionally required, while the other ECUs remain in a low-power state until needed. This equates to significant savings in power consumption and CO2 emissions.
Providing OEMs with a fully scalable SBC solution, the UJA1168 also supports CAN FD Passive, which means UJA1168-based ECUs can remain inactive during CAN FD communication and become active when there is regular CAN communication.
UJA116x Product Family
NXP offers the widest range of variants in a single family of SBCs. The third-generation UJA116x SBCs are a complete range of high-speed CAN-based solutions integrating an ISO 11898-2/5/6 compliant HS-CAN transceiver, a 5V supply and optional protected sensor supply and watchdog. The SBCs include:

About NXP Semiconductors
NXP Semiconductors N.V. (NASDAQ: NXPI) creates solutions that enable secure connections for a smarter world. Building on its expertise in High Performance Mixed Signal electronics, NXP is driving innovation in the automotive, identification and mobile industries, and in application areas including wireless infrastructure, lighting, healthcare, industrial, consumer tech and computing. NXP has operations in more than 25 countries, and posted revenue of $4.36 billion in 2012. Find out more at http://www.nxp.com.
Forward-looking Statements
This document includes forward-looking statements which include statements regarding NXP's business strategy, financial condition, results of operations and market data, as well as other statements that are not historical facts. By their nature, forward-looking statements are subject to numerous factors, risks and uncertainties that could cause actual outcomes and results to be materially different from those projected. Readers are cautioned not to place undue reliance on these forward-looking statements. Except for any ongoing obligation to disclose material information as required by the United States federal securities laws, NXP does not have any intention or obligation to publicly update or revise any forward-looking statements after NXP distributes this document, whether to reflect any future events or circumstances or otherwise. For a discussion of potential risks and uncertainties, please refer to the risk factors listed in NXP's SEC filings. Copies of NXP's SEC filings are available from the SEC website, http://www.sec.gov.