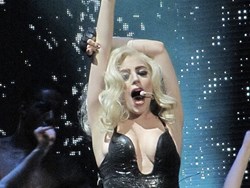 New York, NY (PRWEB) December 09, 2013
Ticket Down announces that tickets for Lady Gaga's 2014 "artRave: The ARTPOP Ball" tour will go on sale to the general public in select markets on Monday, December 9, 2013. This popular secondary ticket exchange is offering the special customer appreciation discount code DISCOUNT for added savings.
Lady Gaga's 2014 tour currently features 21 dates beginning in Fort Lauderdale, FL and is currently set to end at the Staples Center in Los Angeles, CA. The tour is being held to lend support to her latest album, "Artpop."
Lady Gaga is one of the most acclaimed artists in the world. Since catching her big break in 2008, her albums have sold more than 24 million records and her singles have combined to sell more than 125 million copies worldwide. Her first album Fame has been her most successful release as of yet, selling more than 15 copies worldwide. It was certified platinum four times by the Recording Industry Association of America in the United States. Her second album, Born This Way, sold more than eight million copies around the world including being the No. 1 album around the world. Artpop was released in November 2013 and has already sold more than 1.2 million copies.
The artist is known for her wild outfits and unique performances which make her concerts a show worth watching. Her "Monster Ball Tour" can attest to that as fans made that one of the most profitable shows of the 2000s. The tour, which ran from 2009 through 2011, took Gaga to 201 shows for more than 2.5 million fans. She also spent time on the road in 2013 as she finished up her "Born This Way Ball" which took her show to 98 tour dates that welcomed more than 1.7 million fans. Her 2014 tour will be much of the same with fans coming from all over to see her perform.
Since catching her big break more than five years ago, Gaga has put out some of the best music in the world. Among the songs that her millions of fans will be hoping to hear live on the "artRave" tour include Poker Face, Just Dance, Paparazzi, Bad Romance, Telephone, Born this Way, Applause and her current hit single featuring R. Kelly, Do What U Want. Many of these singles have been certified platinum in the United States and have been helped by some of the most talented artists including Beyoncé.
While there is still time for the popular artist to add dates to her 2014 North American tour, it is currently set to take her to many of the most popular venues on the continent including the Philips Arena in Atlanta, GA, Madison Square Garden (MSG) in New York, Verizon Center in Washington, DC, Rexall Place in Edmonton, TD Garden in Boston, MA, and MGM Grand Garden Arena in Las Vegas, NV.
Tickets for the Lady Gaga "artRave: The ARTPOP Ball" tour go on sale to the public at 10:00 a.m. local time on Monday, December 9th. When Lady Gaga performs, people want to watch and this will be your chance to see the acclaimed artist live in 2014.