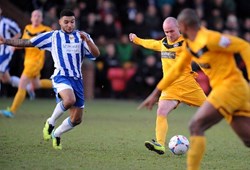 "This was a solid result and we are expecting to build off of these recent points to progress further up the league table."- Thomas Anthony Guerriero
Oxford, UK (PRWEB) December 09, 2013
Oxford City travelled to Aggborough, Worcester City's temporary home, and came away with three well-earned points.
City started brightly and were rewarded early in the game when a long range effort from Tom Winters diverted past goalkeeper Vega via Worcester defender Regan. City continued to look threatening and earned a series of corners and their second goal came just 5 minutes later when Vega totally misjudged a punch clear presenting Robinson with the simple task of heading into an empty net.
Worcester had a small spell of pressure in the first half but it was to prove fruitless with the majority of the game belonging to City. Wilmott saw a chance cleared from the goalline and Andy Ballard saw a golden opportunity go begging when he failed to connect at the back post.
The second half saw Worcester introduce 2 substitutes but City dealt well and didn't allow the home side a moment on the ball, also offering a threat on the break with Jackson and Winters running the wings and Marvin Robinson putting in a superb shift as the lone centre forward.
City came closest late in the second half when a superb Winters volley from 20 yards out whistled past the post.
CEO of Oxford City FC Thomas Anthony Guerriero said, "This was a solid result and we are expecting to build off of these recent points to progress further up the league table."
Next Match
Oxford City v Workington.
Midweek Match...
Workington make the long midweek trek from Cumbria to Marsh Lane on Tuesday to face Oxford City in a Skrill North fixture (k.o. 7.45).
The visitors are having a difficult season and, along with fellow Cumbrians, Barrow, occupy a relegation spot. While City, having taken 10 points from their last six league games, will be looking for another win.
Safe Harbor for Forward-Looking Statements
This press release contains forward-looking statements within the meaning of Section 27A of the Securities Act of 1933, as amended, and section 21B of the Securities and Exchange Act of 1934, as amended. Readers are cautioned not place undue reliance on these forward-looking statements, which are only predictions and only speak as of the date hereof. Forward-looking statements usually contain the words "estimate," "anticipate," "believe," "plan," "expect," or similar expressions and are subject to numerous known and unknown risks and uncertainties. These risks and uncertainties could cause the Company's actual results to differ materially those indicated in the forward-looking statements. Investors are encouraged to carefully review regulatory filings prior to investment consideration. Past performance is no guarantee of future success or that there cannot be losses or business interruption. The Company is in a rapid growth sector that may or may not continue to grow in the future and therefore poses risks that may be different than other investments. Management regularly provides news and additional information believed to be true and accurate at the time of dissemination but has no requirement to modify, comment or change in the future should circumstance change or information prove to be inaccurate for any reason. Additionally, the Company makes every effort to comply with all applicable laws.