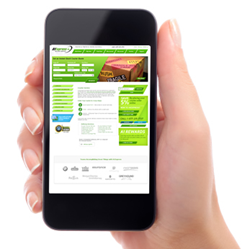 Atlanta, GA (PRWEB) December 10, 2013
A-1 Express, a leader in messenger, same-day delivery and transportation services, announces online special quote services. The Charlotte Courier has made the announcement in an effort to inform customers of its value-added services, build long-term relationships, expand customer base, and promote sales growth. A-1 Express strives to be the best choice for same-day delivery throughout the US.
The online special quote services is easily accessible on the homepage of the courier's comprehensive website. A-1 Express asks customers if they need a scheduled delivery, RFP or a special on-demand quote. If the customer desires a quote for any of the listed services, they can simply click on the "Special Quote" button, which will link them to a special quote request form. The form requests general contact information, including their company name. The form also requests details regarding their requested special quote, such as origin and destination zip code, weight of the freight, pick up date, freight class, number of pieces, and delivery description.
One of the main aspects of the form for the online special quote is the delivery description. This is where the customer is able to explain in detail specifically what their desired services are. Customers can provide the details on whether they are requesting a special quote for a scheduled daily pick up and delivery solution nationwide, or they can request an RFP response for courier services for multiple store locations.
Upon receipt of the online special quote services request, an A-1 Express sales representative will promptly respond to their request. A-1 Express offers online special quote services nationwide to a variety of its customers, whether it is a large corporation or an individual. This option is available for customers that need same-day courier services beyond a one-time use. Customers can also contact A-1 Express via phone to discuss any same-day delivery solutions.
A-1 Express Courier is a leading same-day courier for distribution and freight services nationwide. From small packages to packages to palletized freight, A-1 Express delivers fast. With superior customer care, courier expertise and modern courier technology, A-1 Express is able to provide optimal logistic courier solutions. Based in Atlanta, Georgia, A-1 Express services a growing list of over 1,500 clients, including Fortune 500 companies nationwide.