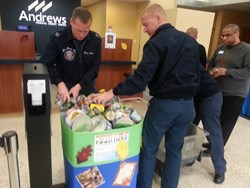 (PRWEB) December 10, 2013
Andrews Federal Credit Union recently held their 2013 Holiday Food Drive at its 7 stateside and 5 overseas locations, to assist families in need during the holidays.
"The selflessness and generosity of our members and staff make me proud to serve as CEO of this wonderful organization," stated Jim Hayes, President & CEO. "We are dedicated to serving our members and the local community," added Oma George, Chief Retail Officer.
Andrews Federal Credit Union staff and members contributed more than 2,700 food items for this worthy cause. The items were donated to the following food banks and charitable organizations, both stateside and overseas:

St. Ann's Maternity Home for Displaced Mothers and Children (MD)
Ft. Washington Food Pantry (MD)
Joint Base Andrews Airmen's Attic Food Pantry (MD)
Bread for the City (DC)
Fountain of Life Center in Burlington Township (NJ)
Family Support Center on Joint Base and Helping Hands of Mt. Holly (NJ)
Local chapter of ACS (Wiesbaden Army Community Service – Germany)
Local families in need through the CSM of the 72nd ESB (Conn Barracks, Germany)
Schinnen Base Chapel (The Netherlands)
Local women's shelter (Brussels, Belgium)
SSVP Ath Pays Vert "La Providence" (Chievres, Belgium)
About Andrews Federal Credit Union
Andrews Federal Credit Union was founded in 1948 to serve the needs of military and civilian personnel by providing a vast array of financial products and services. With over $900 million in assets, Andrews Federal has grown to serve more than 100,000 members in the District of Columbia, Joint Base Andrews (MD), Joint Base McGuire-Dix-Lakehurst (NJ), and military installations in central Germany, Belgium, and the Netherlands. In addition, the Credit Union serves as a financial partner with many select employee groups in Maryland, the District of Columbia, and New Jersey.
To learn more about Andrews Federal Credit Union and its community involvement, please visit http://www.andrewsfcu.org.