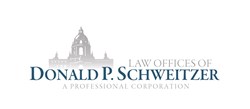 Pasadena, CA (PRWEB) December 11, 2013
The Law Offices of Donald P. Schweitzer (LODPS), Pasadena's premier family law firm, today announced that it is honored to receive Pasadena Magazine's Top Attorneys of the Year Award and be named as one of Pasadena Weekly's "2013 Best of" Reader Recommended Law Firms.
"This past year we hit some significant milestones that I am very proud of," said Don Schweitzer, Certified Family Law Specialist, Partner and Co-founder of the Law Offices of Donald P. Schweitzer. "We celebrated our 10-year anniversary, worked hand-in-hand with local charity, Foothill Unity Center; and supported events and programs by the Pasadena Bar Association. And to close out the year, the firm has been recognized by Pasadena Magazine and Pasadena Weekly readers, which tells us that the community we support, supports us too."
Pasadena Magazine has consecutively recognized the firm since the launch of its Top Attorneys in 2008. The Top Attorneys are nominated by their peers via a balloting process. Each Top Attorney must receive three or more nominations to be placed on the list. Nominees must be registered with the Bar to qualify.
This year the firm celebrated its 10-Year Anniversary by hosting a Monte Carlo Night fundraiser, which benefitted Foothill Unity Center's annual Mobile Dental Clinic. The fundraiser raised $6,000, and 100 percent of the proceeds were donated to the clinic, which provides more than 100 San Gabriel Valley School children with dental treatments.
Partner and founder of the firm, Don Schweitzer, also served as the Pasadena Bar Association's 2013 President. As president, Schweitzer initiated volunteer opportunities for its members through a pro bono event, spearheaded a business development conference, hosted and presented at its annual speech scholarship tournament, as well as the Association's annual board installation, which also honored Commissioner Judge Collette N. Serio as Judge of the Year.
About The Law Offices of Donald P. Schweitzer
The Law Offices of Donald P. Schweitzer is Pasadena's premier family law firm and one of the most respected in the Los Angeles area. Their specialized attorneys are experienced in all areas of family law and estate planning, supported by today's most advanced legal resources. Founded by a former police officer turned assistant district attorney, their responsiveness and expert team approach give their clients a favorable edge.
The firm is structured to respond rapidly and proactively. Their staff of 19 attorneys and legal support staff handle every aspect of each case with the utmost in professionalism, integrity and respect. Principled advocates who will always put their client's best interests first, the Law Offices of Donald P. Schweitzer offers peace of mind every step of the way.
For more information, visit http://www.pasadenalawoffice.com