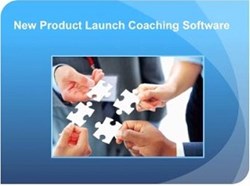 When launching a new product, the goal is not time-to-market; it's time-to-market share.
Scottsdale, AZ (PRWEB) December 11, 2013
Sales Momentum, a leader in sales training programs, today announced the availability of its New Product Sales Coaching software package. Developed in collaboration with Covocative, the New Product Sales Coaching software package can help B2B companies drive new product revenue.
Bringing a new product to market is never easy. According to Richard Ruff, co-founder of Sales Momentum, "Companies spend a king's ransom on creating new products. Yet, when it comes to investing in their sales forces to sell new products, the steam seems to run out of the new product launch effort – and the anticipated sales numbers suffer as a result."
But it doesn't have to be that way. Sales Momentum's New Product Sales Coaching software package can help companies drive sales revenue by leveraging the sales knowledge of sales managers. According to Janet Spirer, co-founder of Sales Momentum, "Sales managers are pivotal to sales success. This sales coaching software allows companies to provide sales managers and their sales teams with knowledge about how to sell the new product – like market drivers, potential objections, key player concerns. It introduces a systematic way to leverage new product sales success through sales coaching."
Take a product tour to learn more about the New Product Sales Coaching software package – and see how your company can drive more revenue in 2014 when you bring new products to the marketplace. Click here.
_________
About Sales Momentum: For more than 30 years, Dr. Richard Ruff and Dr. Janet Spirer – the founders of Sales Momentum – have worked with the Fortune 1000 companies to design and develop sales training programs that make a difference. By working with companies such as UPS, Smith & Nephew, Textron, the Center for Creative Leadership, and Robbins & Myers, they have learned that today's standard for a great sales force significantly differs from that of the past. Janet and Richard co-authored Mastering Major Account Selling and Parlez-Vous Business. These books are available at the Sales Momentum website. They also publish the sales blog - Sales Training Connection.
Contact
Janet Spirer, Ph.D. Principal, Sales Momentum
9280 E. Thompson Peak Parkway - Suite 36 Scottsdale, AZ 85255
Tel: 480-513-0900
Web: http://www.salesmomentum.com
Web: http://www.salestrainingconnection.com