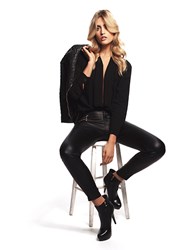 It's no secret that Europe is more advanced when it comes to fashion design. I have been involved in the fashion industry for ten years and look forward to bringing some of Europe's exclusivity to the United States
West Hollywood, CA (PRWEB) December 10, 2013
December 10, 2013- Dahan Properties is proud to announce their subsidiary fashion company, Designs By Dahan has acquired exclusive rights to Swedish fashion line, Belle. CEO Mayer Dahan is anticipating the lines arrival and looks forward to the enthusiastic response from U.S consumers.
Belle is imported from the fashion capital of the world, Paris, France and is currently distributed in Stockholm and other fashion forward cities in Sweden. Comprised of luxurious women's apparel and sophisticated footwear, the merchandise is selected by top European fashion industry influentials.
These industry influentials have access to the most exclusive European designs, hand selecting the most elite styles for the up and coming seasons. Given Belle's rave reviews from the most fashionably advanced cities in the world, Designs By Dahan is enthusiastic to witness the splash the brand will make here in the U.S.
What distinguishes Belle from other brands is that the designs are not only hand selected, but forecasted and analyzed as well. Everything from the merchandise's color, texture, and print is tactically chosen with the consumers in mind.
Once the clothing is selected and distributed, it is then evaluated. The evaluation process affords Designs By Dahan the luxury of discerning which looks were popular, and which looks were disliked. This way product that is in high demand continues to be sold, while the unpopular items are eliminated. This process is referred to by CEO Mayer Dahan as, "Chasing fashion."
Mayer shares his enthusiasm about the brand's distribution in the U.S, "It's no secret that Europe is more advanced when it comes to fashion design. I have been involved in the fashion industry for ten years and look forward to bringing some of Europe's exclusivity to the United States."
Dahan Designs will debut Belle's spring collection in January 2014. For an exclusive access to the lookbook please click here and for more information on Designs By Dahan and the CEO, Mayer Dahan please visit http://www.designsbydahan.com.
________________________________________________________________________________
Dahan Properties is a corporation that houses businesses in different industries. These companies are Prime Five Homes, a full service real estate development firm, an e-commerce luxury clothing store, a real estate app under development, and a 501c3 non profit organization called The Dream Builders Project, which has recently opened. Mayer believes that companies have a purpose to do good work and provide a higher quality standard of living for individuals alike. To find out more, please visit http://www.dahanproperties.com
Contact: Louise Miclat
Tel: 562.547.8350
Email: Louise(at)designsbydahan(dot)com