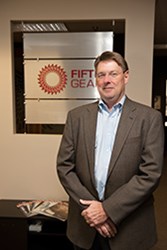 [Don's] experience, skills and leadership have a huge impact on the growth and success of our organization.
Indianapolis, IN (PRWEB) December 11, 2013
Indianapolis-based order fulfillment provider Fifth Gear is pleased to announce that its Chief Financial Officer, Don Van der Wiel, was recently named an honoree at the Indianapolis Business Journal's 2013 CFO of the Year Awards. Selected from a wide pool of nominations by Indianapolis businesses, Van der Wiel was honored in the category 'Private Companies (Revenue of $100 million or less)'.
Since joining Fifth Gear in 2010, Van der Wiel has increased company revenue 81 percent, from $28.4 million to $51.4 million, while simultaneously eliminating over $1.6 million in high-interest debt. He has also overseen the expansion of the company's corporate footprint, including the procurement of additional warehouse facilities and staff in the northeast United States and the development of new value-add programs and services for Fifth Gear clients. The company was also named to the Inc. 500|5000 for the first time in its history under Van der Wiel's guidance, entering the 2013 list at number 3654.
"A great CFO has the unique ability to combine a high level of business acumen, strong communication skills and subject matter expertise in finance and accounting," said Fifth Gear President Matt Konkle. "Fifth Gear is extremely fortunate to have Don as our CFO. His experience, skills and leadership have a huge impact on the growth and success of our organization."
In addition to his achievements at Fifth Gear, Van der Wiel also lists significant accomplishments with several well-known corporate brands on his resume. Among them: implementing electronic payments and cost-savings measures in executive finance roles at Buffets Holdings, Inc; reversing a 4-year decline in same-store sales while serving as Vice President of Finance at Carter's Childrenswear; and leading home appliance and electronics retailer hhgregg Inc. through its first initial public offering during his tenure as CFO.
To learn more about the CFO of the Year award and to read a full profile of Don's achievements, visit http://www.ibj.com.