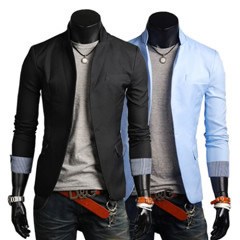 (PRWEB) December 11, 2013
Recently, 4leafcity.com, a reliable online shop offering various kinds of men's and women's clothes, has announced a new assortment of men's suits for worldwide customers. Now, all new and old customers can purchase men's suits online at discounted prices, up to 36% off.
According to the CEO of the company, the special offer will last until the end of this month. It is true that the new collection comes in many different patterns and styles. They are available in over 10 colors.
"We are excited to release the fresh suits. They are specially made by our top designers to meet the great demand in the current market," the CEO states, "All of them feature fashionable designs, handsome looks and neat cuts. We hope they can keep customers warm in the cold winter. Now, the prices are very reasonable. Suit lovers should visit our online shop as soon as possible."
The company is providing one of the largest and varied selections of men's clothes available in the world. At its website, customers can find all its products listed in a very good order. A lot of its items are distributed all over the world and have been highly praised and appreciated by the consuming public.
About 4leafcity.com
4leafcity.com was founded in 2009 and serves more than 5000 customers from every part of the world. It is one of the leading suppliers of men's and women's clothes, helping the people worldwide develop self-esteem, confidence and love of learning. For a full list of services and to learn more about 4leafcity.com, please visit http://www.4leafcity.com/product-men-s-suits-009003001.aspx.