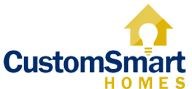 We built this home for the Legge family.
Johnson City, TN (PRWEB) December 10, 2013
CustomSmart Homes recently finished a uniquely designed home for a family that has been saving up money for over a decade so that they can buy their dream home. The home has an open floor plan with a large central area for the kitchen, dining room, and great room, a two story entrance, and large family room on the second level. The Cape Cod style home complete with five bedrooms and three bathrooms was designed to meet the needs of their client.
"We built this home for the Legge family," said Bill Lizzio Sr., the president of CustomSmart Homes. "Since the family consists of a mom, dad, and four children ages 2,4,6,8 who are home schooled, the basement was specifically designed to accommodate a classroom, numerous storage closets, bathroom, additional bedroom , HVAC room, pantry, and drive under 2-car garage. Both parents are missionaries and have saved for the last 12 years to make building their dream home a reality."
Before the Legge family had their new home they lived and schooled their children in a single wide trailer. Now the Legge family has more than enough room to live comfortably, and to educate and raise their children in a beautiful home. The Legge's home is located in a restricted community in the mountains surrounding Hampton, TN and is adjacent to Doe River Gorge Christian Camp.
To see pictures of the Legge family home, visit the CustomSmart Homes' photo gallery.
About CustomSmart Homes:
CustomSmart Homes was established by Lizzio Development Group, LLC and is a Nationwide Homes affiliated home builder. CustomSmart Homes specializes in environmentally friendly modular home building and has built green homes across the state of Tennessee. The family owned construction business has over 80 years of combined management and construction experience. To learn more about CustomSmart Homes, visit their website.