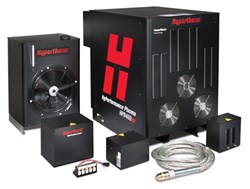 We did a job a year ago that was beveled by hand, then we did the exact same job this year on the machine. We were able to save 500 hours.
Hanover, NH (PRWEB) December 11, 2013
Pennsylvania's Robinson Fans reports a marked increase in productivity following its switch from two 30-year-old plasma systems to a Hypertherm Built for Business Integrated Cutting Solution. The manufacturer of custom built industrial fans and other air moving equipment says the new system moves much more quickly, and does such a good job cutting stainless steel that secondary operations are no longer needed.
"We're burning more than we ever did before, yet we're doing it with the same people," said Jeff Olinger, Robinson's table supervisor. "We have not hired any additional programmers or anybody to do the setup. We've actually reduced the number of hours required for burning operations substantially."
The Built for Business Integrated Cutting Solution Robinson is now using contains four Hypertherm components: a HyPerformance Plasma HPR400XD system, EDGE Pro CNC, Sensor THC, and ProNest software. This combination of hardware and software means Robinson can use Hypertherm's True Bevel™ and True Hole® technologies.
True Bevel accurately cuts the beveled edges Robinson needs for its parts right on the cutting table. As a result, Robinson no longer relies on grinding to create beveled edges. "We did a job a year ago that was beveled by hand, then we did the exact same job this year on the machine. We were able to save 500 hours. And that's very significant," says Tim Rape, Robinson's General Manager.
In addition, ProNest delivers specialized cutting parameters to the HyPerformance Plasma system enabling the team at Robinson to cut bolt-ready holes on mild steel. "We've come a long way using True Hole," said Todd Spencer, Programming Supervisor. "I'd say we're burning 20 percent more parts using the plasma process…It's a less expensive process, and that means we don't have to drill or punch."
This is Robinson's first time using ProNest, which admittedly gave the team pause. They were nervous about learning how to use new CAM software, but wound up pleasantly surprised. "Programming…in ProNest has turned out to be very user friendly. And it's possible to make edits on the fly if necessary," Olinger explains. "We had a job out at the table one weekend that needed to be adjusted. The machine operators were brand new at it, yet they were able to go into the software and quickly edit the bevels to make it work."
ProNest has been the industry's leading nesting software for two decades, offering best-in-class performance and reliability with a straight-forward, easy-to-use design. ProNest is also a component of Hypertherm's Built for Business™ Integrated Cutting Solutions, providing support for True Hole™, True Bevel™ and Rapid Part™ technologies. Visit online at http://www.hypertherm.com.