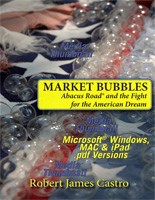 Keys to the Universe of Investing: The genius behind the formula is that it captures price history in mathematical form. Each successive wave overlaps, accumulates, and records the instant history of Price.
Washington, D.C. (PRWEB) December 13, 2013
Newly Released, the book..."Market Bubbles, Abacus Road® and the Fight for the American Dream," Copyright ©2010 by Robert J. Castro, is a book about the one and only mathematical formula that sets price in world investment markets for: Stocks, options, bonds, currency & commodity futures, derivatives, real estate, even interest rates. See how Abacus Road®, the formula, drives world commerce and commands world politics.
According to the author, a cabal of wealthy investors, primarily in Europe, has manipulated world markets for more than 100 years to line its pockets with greed to the detriment of world society. On his http://www.abacusroad.org website, he states that the effects are visible in Argentina, Cyprus, Greece, Italy, Spain, Portugal, Ireland, Iceland, and here at home in the United States. He further states that the cabal now seeks to combine all countries of the world under a New World Order, One World Government that will spell an end to the Sovereignty of our great nation, the very freedom of our citizens.
Castro says investors should protect themselves, now; guard against the coming inferno; and learn how to invest like the oracles of today. They should learn what is in store for America under the "Amero," counter to the Euro and slated to be the new currency once the United States, Canada, and Mexico merge (The Treasury has already sold $800 billion Ameros to the Chinese. See:http://www.canadian-money-advisor.ca/archives/2008/12/the+amero+new +currency+for+the+u+s.html).
Castro says investors should protect themselves, now. Visit http://www.abacusroad.com
Know the New World Order in action: http://www.abacusroad.org
See what Presidents to the Pope have to say: [http://www.abacusroad.com/maryjones