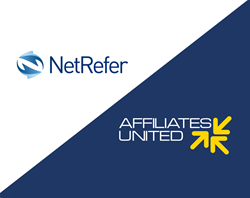 Julian Buhagiar, CEO of NetRefer said: "It has been a pleasure to work closely with the marketing and technical teams at William Hill Online to ensure they are provided with all the latest marketing tools to fulfil their requirements."
Europe (PRWEB) December 12, 2013
William Hill and NetRefer are pleased to announce the successful launch of William Hill Online's Affiliates United program through NetRefer's Performance Marketing suite.
One of the most powerful gaming operators on the planet, and recently crowned winner of the "Best Affiliate Program" by EGR Magazine, William Hill Online is a significant partner and an exciting addition to NetRefer's growing client base. This partnership continues to assert NetRefer as market leaders in affiliate management and performance marketing.
William Hill Online's new affiliate programme offers state of the art functionality including fully managed online hosting, advanced media tracking, dedicated customer support and account management, flexible reward plans, attractive affiliate commissions, on time payments, and extensive reporting along with other industry leading marketing tools. This will empower the business with all the necessary functions to support CMOs, marketing and affiliate managers and affiliates effectively and efficiently.
William Hill Online has always enjoyed a very strong brand image, and through the implementation of their new affiliate platform, this will encourage further growth for their online business, a key objective for all NetRefer's online gaming partners.
Schraga Mor, Managing Director for William Hill Online, said: "This is a very important chapter in our business, and we are very excited to be working with the industry leaders in affiliate marketing to ensure all our esteemed affiliates and marketers are provided with the leading edge solution in the business. We are proud to have selected NetRefer as trusted partner for our marketing solutions".
Julian Buhagiar, CEO of NetRefer said: "It has been a pleasure to work closely with the marketing and technical teams at William Hill Online to ensure they are provided with all the latest marketing tools to fulfill their requirements. Our goal is to ensure all the affiliate team as well as their affiliates are provided with a fully configurable rewards engine, clear and flexible reporting, in-depth analytics as well as user friendly dashboards available in over 99 languages to ensure market reach and localisation for William Hill's entire online brand."
Further details about WHO's affiliate program can be found at http://www.affutd.com/.
Further details about NetRefer can be found at http://www.netrefer.com.
About William Hill:
William Hill, The Home of Betting, is one of the world's leading betting and gaming companies, employing more than 17,000 people. Founded in 1934, it is now the UK's largest bookmaker with around 2,400 licensed betting offices that provide betting opportunities on a wide range of sporting and non-sporting events, gaming on machines and numbers-based products including lotteries. William Hill Online (http://www.williamhill.com) is one of Europe's leading online betting and gaming businesses, providing customers with the opportunity to access William Hill's products online, through their mobile, by telephone and by text services. William Hill PLC is listed on the London Stock Exchange and generates revenues of over £1.2bn a year.
For more information about William Hill please contact our Press Office team
Tel: +44 (0)20 8918 3732
Email: pressoffice (at) williamhill (dot) co (dot) uk
About NetRefer :
NetRefer is the leading provider of affiliate marketing software to the online gaming industry. NetRefer is capable of handling the whole affiliate marketing life cycle from the affiliate CRM, media serving, tracking, comprehensive reporting, finance & rewards management and automated payments to affiliates.
Founded in Malta in 2005, NetRefer has established itself as the market leader in providing the most complete and trusted affiliate marketing software in industries such as iGaming, Forex and Option Trading verticals. The unrivalled features list, cutting edge technology coupled with professional account management and customer support makes it the ideal performance marketing platform. NetRefer's software is available in different editions to cater for small, medium, and large affiliate programs.
For more information about NetRefer please contact:
Telephone: +356 2767 3337
Email: sales (at) netrefer (dot) com