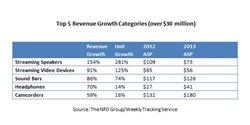 We are beginning to see emerging product categories contribute significantly to the overall market growth.
Port Washington, NY (PRWEB) December 12, 2013
For the first time in three years, U.S. consumer electronics* sales, both online and in retail stores, increased double digits during Black Friday week. According to NPD's Weekly Tracking Service**, consumer electronics sales increased 10 percent to nearly $5 billion the week of Black Friday***. TVs, tablets, and notebooks accounted for $3.1 billion of the overall revenue.
There were significant contributions from some of the newer product categories as well. Two-thirds of all the categories with more than $30 million in sales revenue grew over last year.
"We are beginning to see emerging product categories contribute significantly to the overall market growth, said Stephen Baker, vice president of industry analysis, NPD. "For example, headphones didn't break into 2010's top 50, but they were the fourth largest revenue category in 2013. The most significant sign of positive holiday momentum is that all of the top five categories delivered positive revenue in 2013."
Similar to last year's results, TVs were the largest revenue generator with more than $1.4 billion in sales, up 5.6 percent over last year. Unit volumes soared nearly 16 percent to more than 4.7 million units, due in part to record low average selling prices (ASP) on smaller screen TVs. Sales of 32-inch TVs grew 40 percent from Black Friday week in 2012, while ASPs declined from $194 to $137 this year. Large screen TVs (60+ inches) were also flying off the shelves, with unit volumes increasing 62 percent. ASPs for these TVs have dropped significantly over the past few years from $1374 in 2011, to $1064 in 2012 down to $1005 in 2013.
Vizio, Samsung, and Sharp led the 60+-inch TV market with unit shares of 55 percent, 29 percent and 8 percent, respectively.
During Black Friday week, tablets were the second highest revenue generating category and unit volumes increased by 105 percent. Overall, PC and tablet sales increased by 58 percent to almost 5.9 million units. Notebooks unit volume fell 2 percent, while desktops experienced a 7 percent increase. Apple had a strong holiday week as it participated more aggressively in Black Friday sales promotions than ever before; sales were up 34 percent in notebooks, 51 percent in tablets and 277 percent in desktops. Android-based tablets saw unit volumes climb 146 percent, and revenues jump 70 percent, although selling prices dropped from $151 to $105. Seven-inch Android tablets, which accounted for 80 percent of all Android tablet sales, sold 1.8 million units with an ASP of $82. Windows devices grew 8 percent as the strong Surface promotion and the introduction of smaller Windows tablet sales offset the declines of 8 percent and 9 percent in desktops and notebooks, respectively.
"Strong promotions, new players, new product categories; these were all the things the industry needed after several stagnant years," said Baker. "Holiday sales growth is an important momentum builder for 2014. However, it is important to remember that with much of the volumes driven by heavy promotion, similar outcomes in 2014 are much more uncertain."
For more of Stephen's insight into Black Friday sales, read his blog.
*Consumer electronics excludes: Amazon Kindle products, mobile phones, and video games.
**NPD's weekly POS information is derived from a subset panel of retailers that also contribute to NPD's projected monthly POS panel.
***Black Friday includes sales from November 24 – November 30, 2013.